Snaffle Wood
Details for this wood
Guide price: £90,000 - Freehold
Size: About 9¼ acres

Location: Woodchurch, Kent
OS Landranger: 189
Grid ref: TQ 960 338
Nearest post code: TN26 3RJ
Contact: Bob Liles
Phone: 07793 140 010
Email: bob@forests.co.uk
Email to a friend
Description   Snaffle Wood is a very fine example of a traditional Kent woodland. The hornbeam "coppice stools", with their numerous slim tree-trunks, are mixed with many fine mature oak and a sprinkling of other trees. The wood is classified as Ancient semi-natural woodland, meaning it has been a woodland since the seventeenth century at least, and probably much longer. A feature of the wood is the ancient wood bank, with its sinewy shaped gnarled trees marking its western boundary. Coppice wood can, of course, be cut and it will grow again. This could be an ongoing resource for your own wood-burning stove.
In winter the leafless trees throughout the wood enable lots of light to reach the open, level woodland floor and warm it. Come spring, patches of bluebells emerge, together with other flowers, before the new leaves shade out the sun again. In the summer the wood is cool and shaded. A large clearing on the west side provides a good open space.
The area within which it lies is designated as Ancient semi-natural woodland, is a Kent Wildlife Site and a Special Landscape Area. The wood is close to the Rare Breeds Centre and within 6 miles of Tenterden, a great country town with a broad tree-lined high street and some nice cafes.
Access   there is road fronatage with the access to one side of the wood through a full right of way. There is ample room for parking just inside the wood.
Boundaries  are the roadside and on the other three side the track edges.
There is a covenant attached to the wood click here to read designed to ensure that all can have quiet and peaceful enjoyment of their woodland.
Our Maps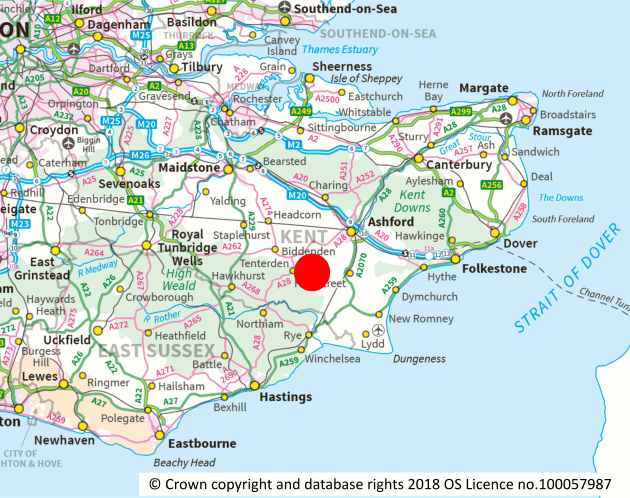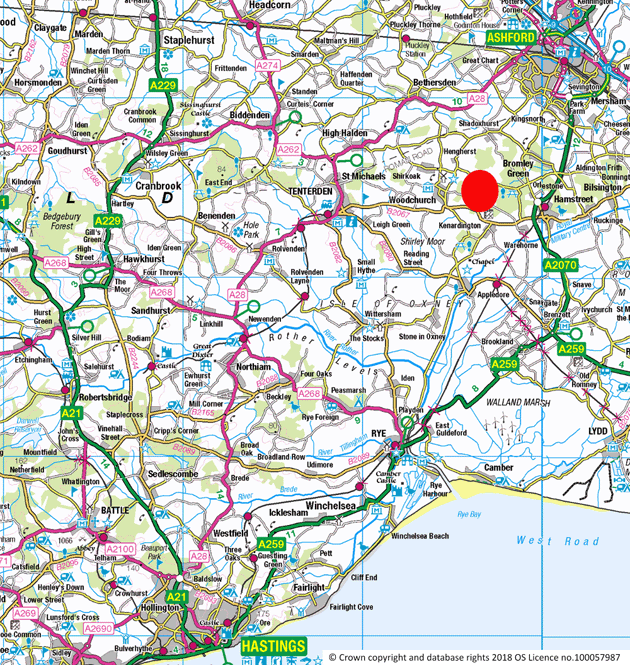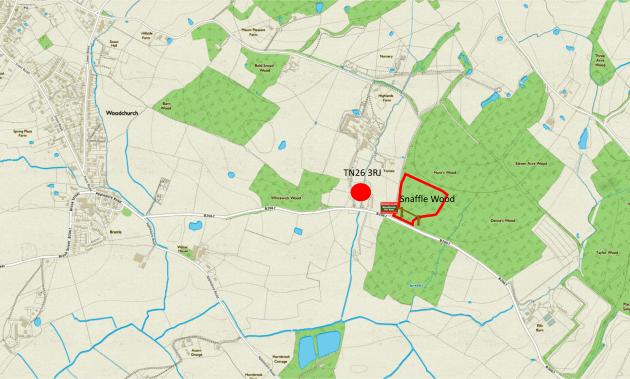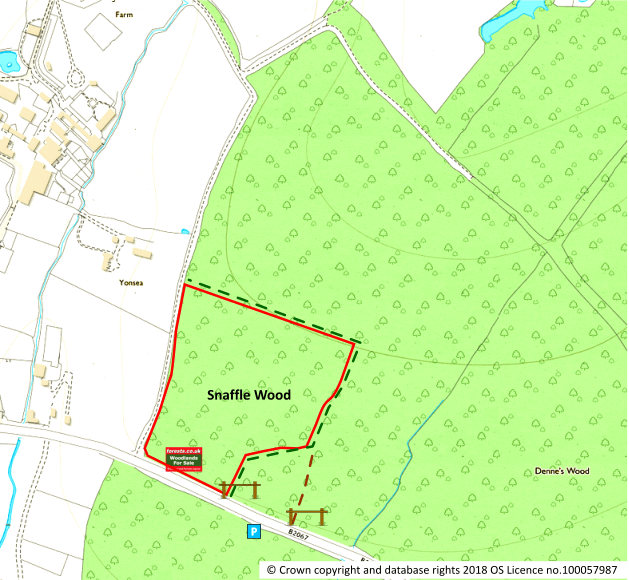 Directions
Snaffle Wood is just 1 mile east of Woodchurch on the B 2067 and some 8 miles south of Ashford, in Kent.
Click here for Bing Maps Directions enter your own postcode, (the coordinates the entrance are already entered).
For Satnav: the nearest postcode is TN26 3RJ as shown by the red dot on the maps. Coordinates for your satnav are N51.070499, E0.796957
Park in the layby opposite the wood, cross the road and enter the wood to oneside of the ride-stop.
Interested in this woodland? Get in touch with us:
Contact Bob Liles on 07793 140 010 or use the form below