Bluebell-s Wood - Sold
Details for this wood
Guide price: £66,000 - Freehold
Size: About 6⅔ acres

Location: Whitesmith, Hailsham, East Sussex
OS Landranger: 199
Grid ref: TQ 522 139
Nearest post code: BN8 6JH
Contact: Richard Scholfield
Phone: 07811 818 277
Email: [email protected]
Email to a friend
Description   There is easy to access along a green lane off Broomham Lane in Whitesmith. The immediate impression is one of a grand scale, trees meet high above the wide track, this could be an exotic landscape anywhere in the world but this is Vert Wood. Inside Bluebell Wood the main tree is Scots pine well-spaced substantial specimens accompanied by larch and broadleaved shrubs including hazel and hawthorn. Classified as a plantation on an ancient woodland site (PAWS) there are plenty of plants in the ground flora that confirm this designation. At the eastern end conifers are younger and denser. A public footpath runs along the northern side.
Boundaries    Along the north side there is a shallow bank and ditch, to the east a fence, and the south the wood adjoins the green lane.
Maps are : © Crown copyright and database rights 2018 OS Licence no.100057987
Our Maps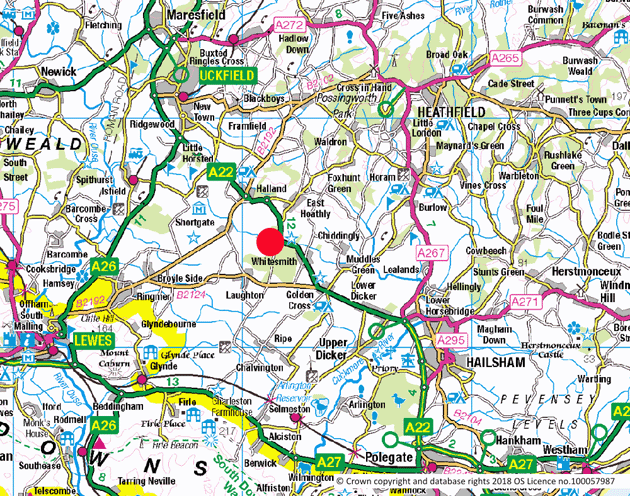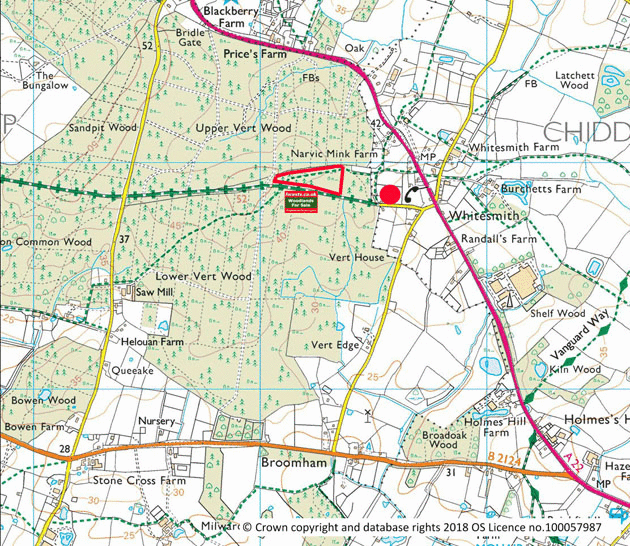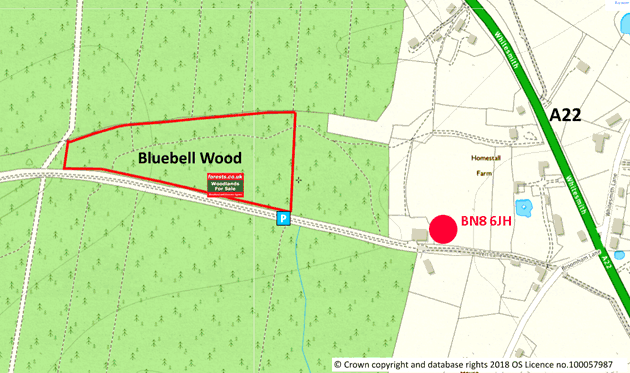 Directions
Bluebell Wood at Whitesmith is about 5 miles north of Hailsham and 7 miles south of Uckfield in East sussex.
Click here for Bing Maps Directions enter your own postcode, entrance coordinates are already entered, and click on the "Directions" box.
Satnav: the postcode BN8 6JH is for the point shown by the red dot on the location maps. Coordinates for satnav are:  N50.903934, E0.165739
The track leading to Bluebell Wood is a byeway open to all traffic and runs along the whole frontage to Bluebell Wood giving access at any point.