Broadhead Wood, South of Tunbridge Wells, East Sussex - Sold
Details for this wood
Guide price: £48,500 - Freehold
Size: About 5 acres

Location: Lodge Lane, south of Tunbridge Wells, East Sussex
OS Landranger: 188
Grid ref: TQ 557 375
Nearest post code: TN3 9LU
Contact: Richard Scholfield
Phone: 07811 818 277
Email: [email protected]
Contact: Ben Williamson
Phone: 07958 213 914
Email: [email protected]
Email to a friend
Broadhead Wood is of a very manageable size and lies within the Broadwater Forest. The tree cover is mostly relatively young, between 10 and 30 years old, and quite dense, providing a good level of privacy. The whole wood is fenced with 3 strands of plain wire on two sides and stock fence to the west. There is a more open area of mainly Gaultheria, a shrub of the heather family with attractive flowers and berries. The birch would provide an owner with a good wood fuel source for home heating, as well as a variety of fungi. Along the boundaries with the adjoining lanes, immediately behind the fences, there are many deciduous trees, mostly oak, birch, rowan and a few cherry. Along the west boundary with the adjoining wood are a number of mature western hemlock. And right in the middle of the wood, in a pine glade, is a weather-proof chestnut bench, where you can sit and just enjoy being enveloped by nature. Broadhead Wood is readily accessed through its own private locked ride stop with a track that would enable an owner to park a vehicle well into the wood.
The centre of the delightful Spa town of Tunbridge Wells is only some 4 miles away.
There is a covenant click here to read designed to ensure that all can have quiet and peaceful enjoyment of their woodland.
Our Maps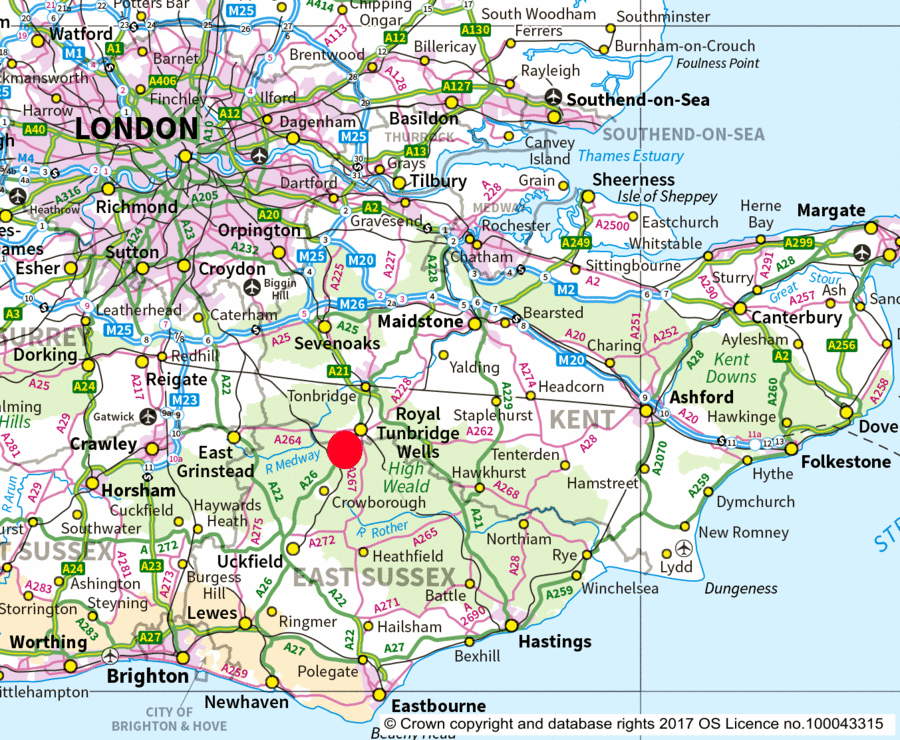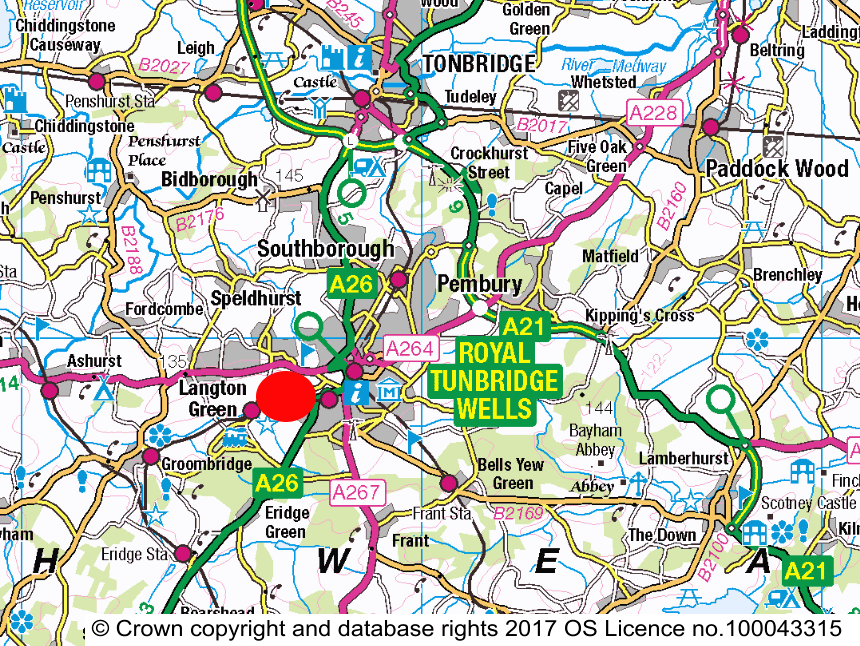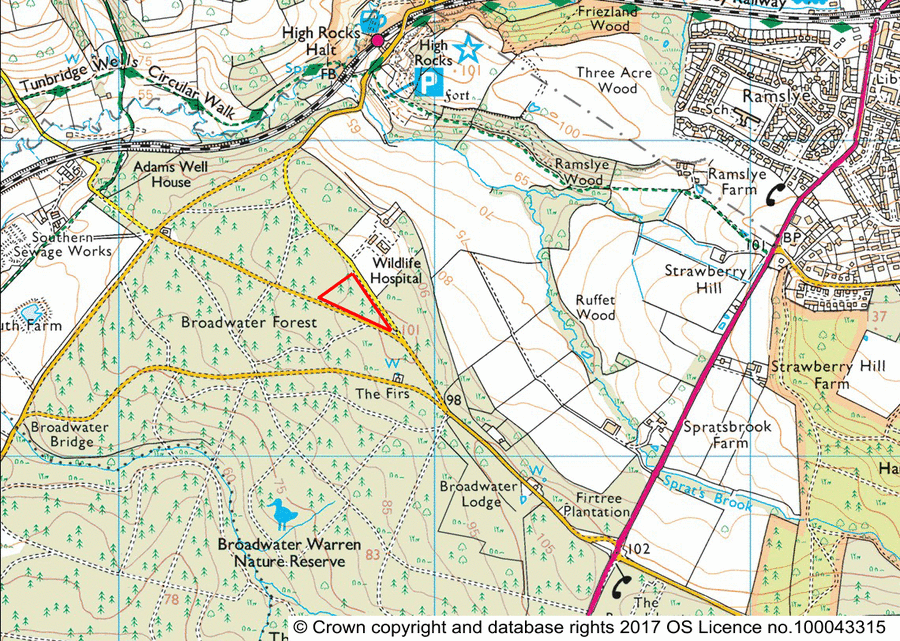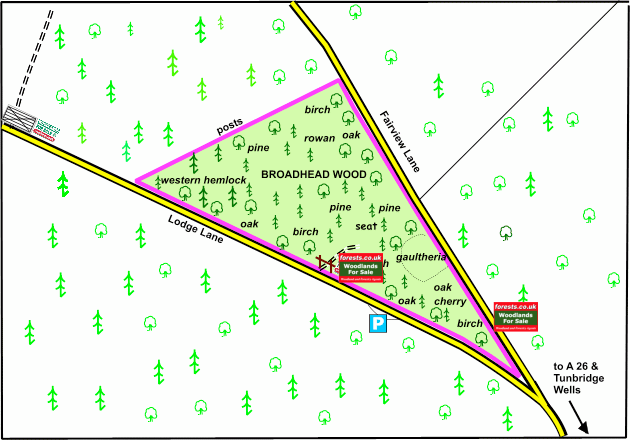 Directions
Broadhead Wood is just south west of Tunbridge Wells in Broadwater Forest.
Click here for Bing Maps Directions enter your own postcode, (the wood entrance gates coordinates are already entered) and click on the "Directions" box. This will take you to the access 'ride-stop'.
Satnav: the postcode TN3 9NZ  is shown by the red dot on the location plan. These coordinates in your satnav will take you more or less to the entrance, a ride stop -  N51.1152  E0.223809
From Tunbridge Wells go south on the A26 for about 1½ miles and turn right, signposted to Groombridge and High Rocks onto Broadwater Forest Lane.
After about ½ mile, fork right signposted to High Rocks
After ¼ mile, fork left, signposted to Langton Green onto Lodge Lane.
Broadhead Wood will be on your right.
After about 160 metres there is a locked wooden ride stop on the right, into Broadhead Wood with a 'Woodland for Sale ' sign.
Park nearby and walk into Broadhead Wood.