Cathill Wood (part) - Surrey
Details for this wood
Guide price: £170,000 - Freehold
Size: About 10 acres

Location: Standon Lane, Ockley, Surrey
OS Landranger: 187
Grid ref: TQ 137 390
Nearest post code: RH5 5QR
Contact: Ben Williamson
Phone: 07958 213 914
Email: [email protected]
Email to a friend
Located in pretty Surrey countryside within easy reach of the M25 if needed, Cathill Wood has a stream running through the centre of the wood which at points is dominated by ransoms (wild garlic). The stream in summer is gentle and safe, perfect for children to play in, in winter though it will be more fast flowing and dramatic. Either side the land rises to bluebell clothed mature woodland, totally delightful in early spring. Orchids are found locally within this area.
The whole wood is well fenced with a form of chain link, this doesn't though seem to deter the deer who are capable of jumping the fence in their wandering between woodland ownerships.
The wood is classified as semi-natural ancient woodland and has a good variety of trees including mature beech, oaks, magnificent hornbeam, huge ash, plenty of silver birch and widespread hazel.
Access  is off Standon Lane through the wooden gate. This is at present pedestrian only.
Boundaries  these are all fenced and are easily found.
Parish is Abinger, district is Mole Valley and county is Surrey CC.
Full-scale  Click here  to download and print a map showing the location of the woodland.
Click HERE  to see free OS maps
Viewing:  You are welcome to visit this wood by yourself, but please ensure that you have a copy of these sales details with you - many of our woodlands do not have mobile phone reception or internet access so we recommend either printing the details or downloading them to your phone or tablet. Please take care when viewing as the great outdoors can contain unexpected hazards and woodlands are no exception.
Maps: OS OpenData © Crown copyright and database rights 2023 & OpenStreetMap
Our Maps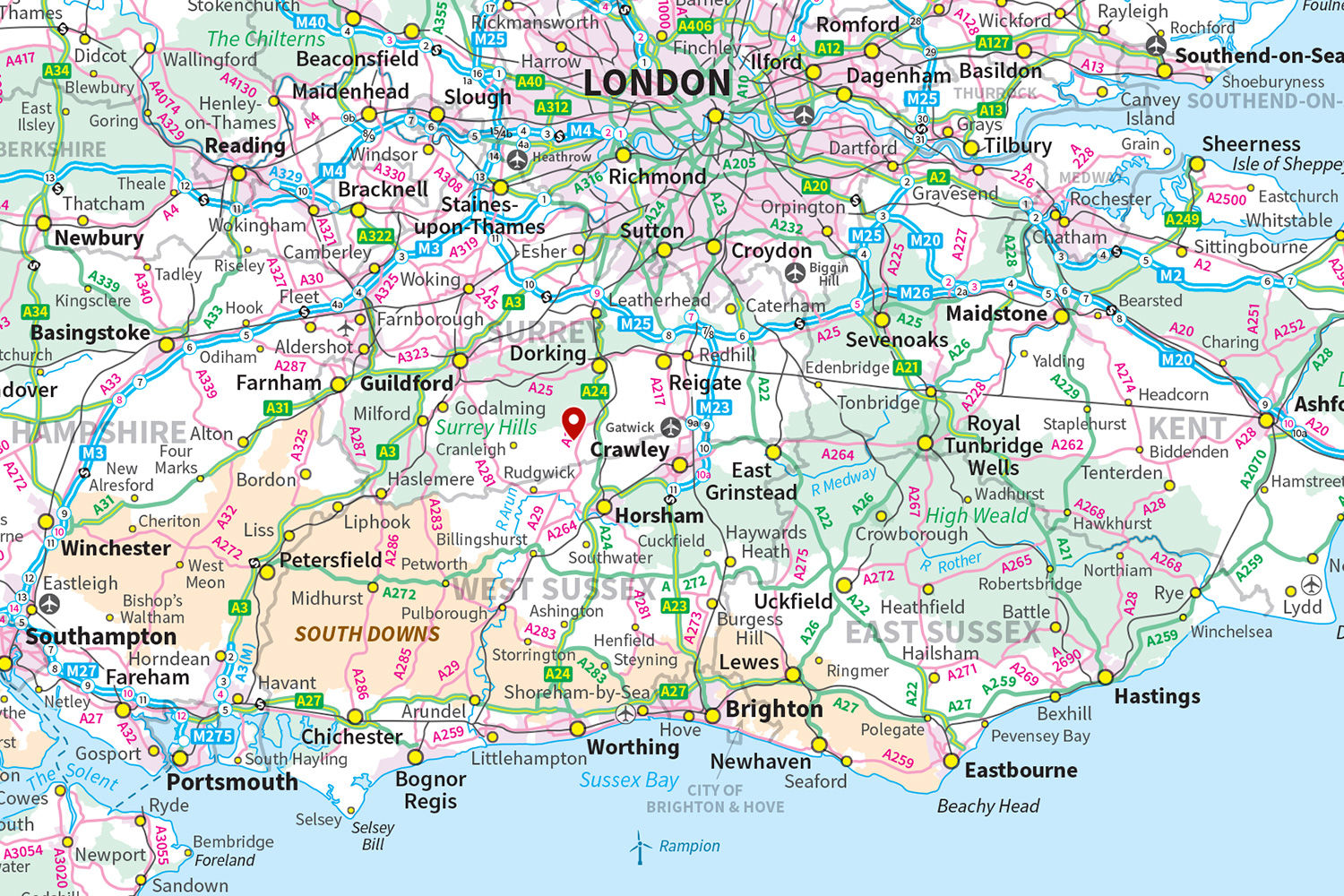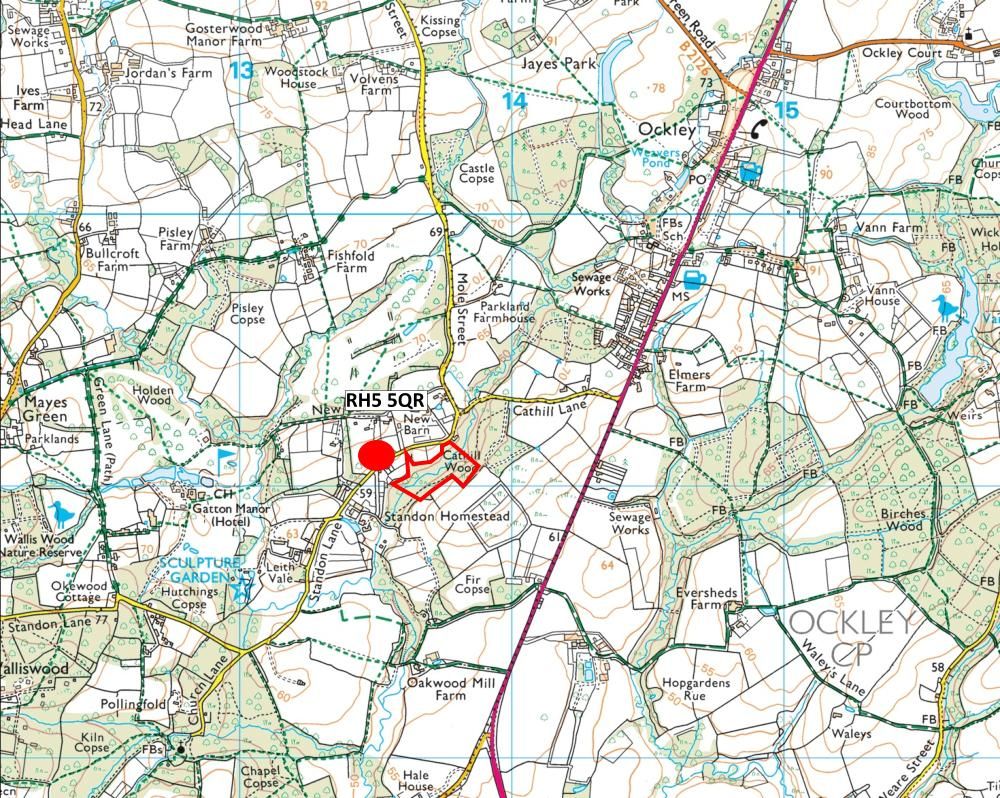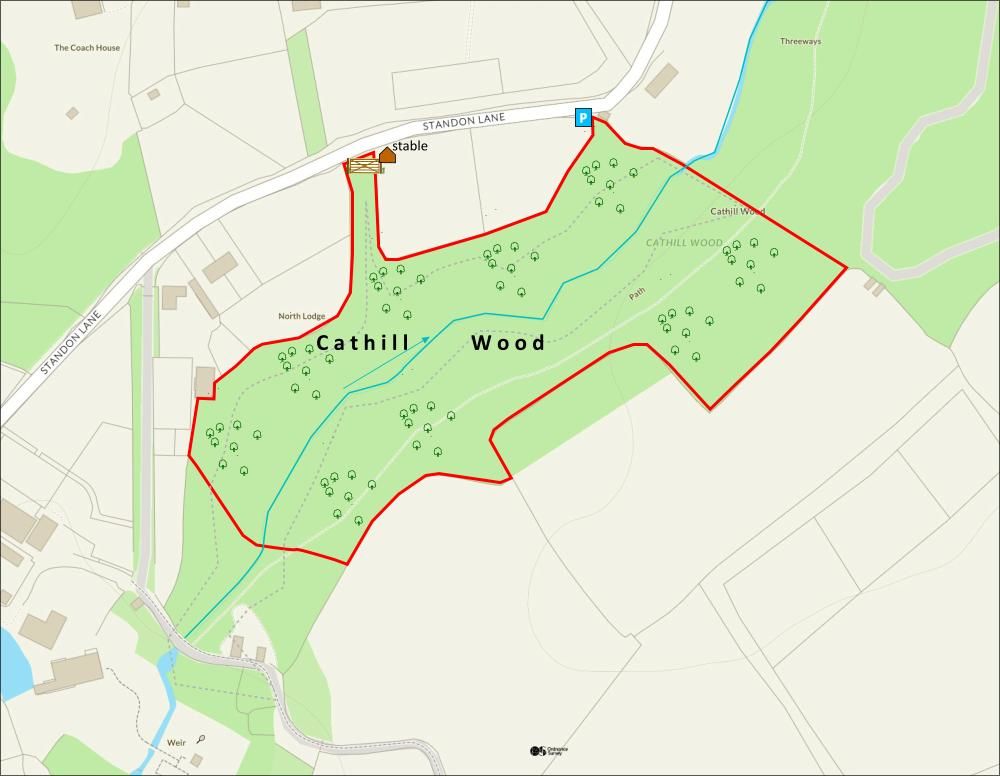 Directions
Cathill Wood at Ockley lies between Dorking to the north (15 mins) and Horsham to the south (17 mins), in Surrey.
1. Click here for Bing Maps Directions  enter your own postcode and click on the "Go" box.This will take you to the access off Standon Lane.
2. For Satnav or smart phone:
a) use the nearest postcode RH5 5QR for the red spot on the location maps.
or
b) use coordinates:N51.140209, W-0.377265
For parking while viewing the woods, just a little north there is enough room to pull off the road by the private garage. Then walk back to where you will see the wooden gate just below road level.
Interested in this woodland? Get in touch with us:
Contact Ben Williamson on 07958 213 914 or email us at [email protected] with your details.