Etchden Wood (part) - Sold
Details for this wood
Guide price: £19,500 - Freehold
Size: Approx 2 acres

Location: near Bethersden near Ashford, Kent
OS Landranger: 189
Grid ref: TQ 958 422
Nearest post code: TN26 3DP
Contact: Richard Scholfield
Phone: 07811 818 277
Email: [email protected]
Email to a friend
Description    Classified as ancient replanted woodland, the associated woodland flowers including bluebells and wood anemone produce an amazing spectacle in spring. Mature oaks are spread throughout the wood and with these is hornbeam coppice. Access around the wood is an easy walk, there is room to pull in and park off the track. An affordable and easily managed woodland perfect to enjoy the pleasures of woodland ownership.
Access   Vehicle access is off Etchden Lane along a right of way. There are locked metal gates by the road at the start of the track, this runs down to a cross road ( about 150 metres)  at which point the right of way turns left, the wood is on the right hand side after about 60 metres. This second track is somewhat overgrown at present but could be cleared easily with a strimmer.
Boundaries    Along the north west side its the centre of the track from a blue topped post as far as a tape red marker on a branch; along the north east side the boundary runs from this marker (above) through the wood and then alongside the neighbouring property to the hedge next to the open field.  From this corner it runs alongside the field as far as the second blue topped post. The west boundary runs from this post to the blue-topped post by the track.
Maps are : © Crown copyright and database rights 2018 OS Licence no.100057987
Our Maps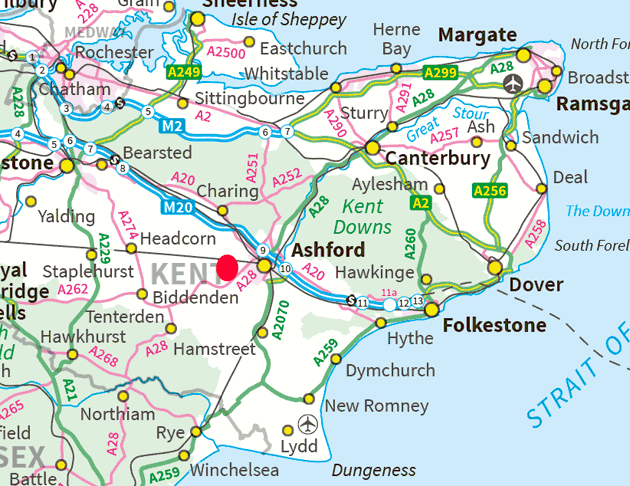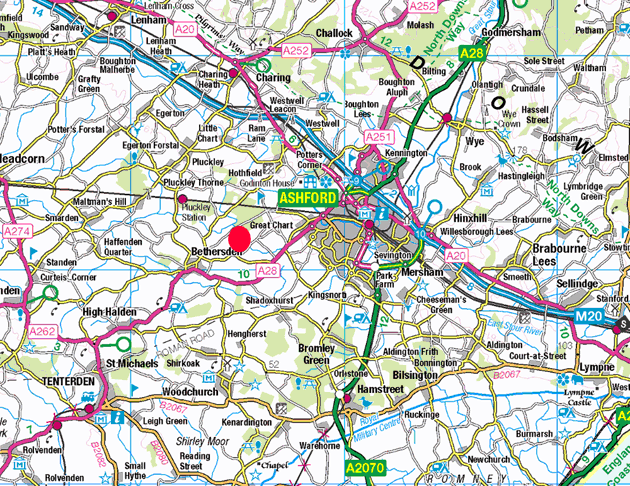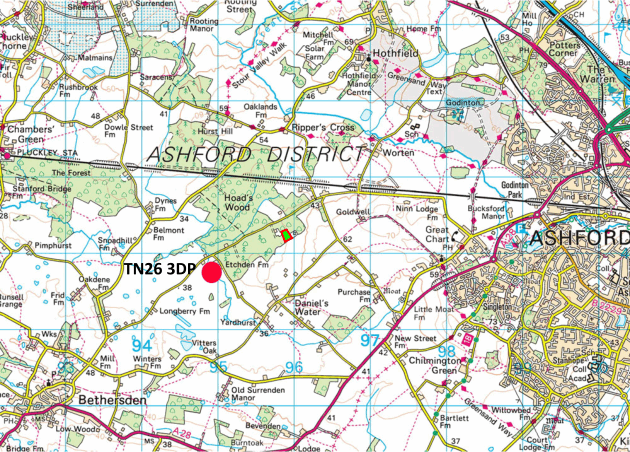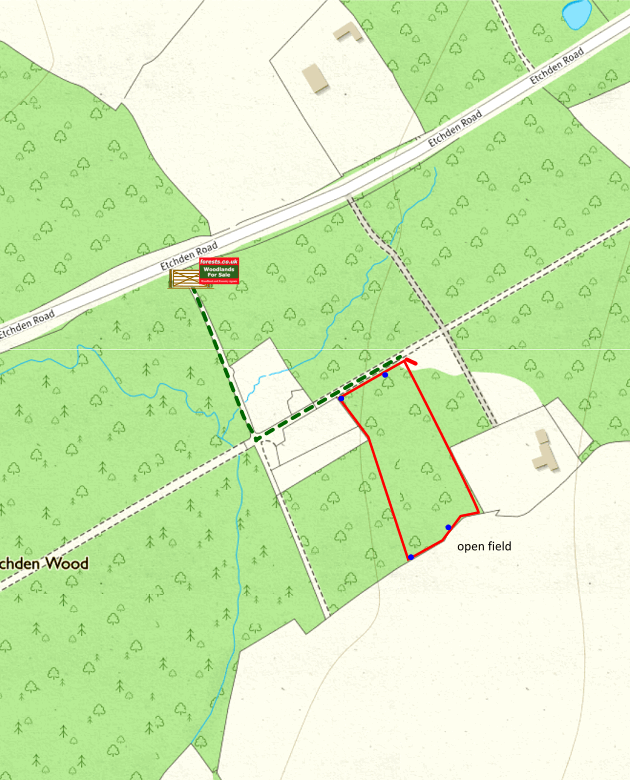 Directions
Etchden Wood just north of Bethersden is about 4 miles west of Ashford.
Click here for Bing Maps Directions enter your own postcode, (the coordinates for the entrance gate are already entered). 
For Satnav: the nearest postcode is TN26 3DP as shown by the red dot on the maps. Coordinates for your satnav are N51.147138, E0.796856
Viewing  Park on the roadside and taking care walk round the side of the gate then down the track, go left at the cross roads and the wood will be seen on the right after about 60 metres.There is a blue post with a red tag at this point.