Flourish Wood - Sold
Details for this wood
Guide price: £43,000 - Freehold
Size: About 4 acres

Location: High Beeches, Brantridge, Handcross, Crawley, West Sussex
OS Landranger: 187
Grid ref: TQ 282 305
Nearest post code: RH17 6JX
Contact: Richard Scholfield
Phone: 07811 818 277
Email: [email protected]
Contact: Ben Williamson
Phone: 07958 213 914
Email: [email protected]
Email to a friend
Description  Flourish Wood lies on the western side of a small valley.
Set on a gentle slope a mass of bluebells cover the higher area where in spring the azure blue outshines all other colours in the wood. Here large oak with sweet chestnut and the white-barked birch tower over the flowers. As the land drops along a well-defined bank alder and chestnut grow in the moister parts. In the open area under the wayleave the ground is occupied by closely spaced young birch and alder down to the stream edge. The centre of the stream is the boundary.  This seems to be a preferred area for the resident fallow and roe deer who have often been seen here. A fine yew tree stands centrally, another on the wood edge which was blown in the storm of '87 yet continues to grow. Holly and rhododendron provide privacy for both owners and wildlife. 
Local area  This part of West Sussex is very well-wooded. Flourish Wood is tucked within the large woodland area of Blackfold, Denchcombe, Harrys, Carroty and Cow Woods between High Beeches Gardens, well worth a visit, The National Trust's Nymans Gardens and the fine country houses, Ditton Place and Brantridge Park.
Boundaries These are shown by mauve markings and are: the line of posts, the lane and track edge and the centre of the stream.
Sporting rights are included.
Please note Felling has taken pace recently under the cables and will soon be cleared and logged up, producing a ready supply of firewood.
Covenant  The purchasers of the woodland will be asked to enter into a covenant to ensure the quiet and peaceful enjoyment of adjoining woodlands and meadows.
Our Maps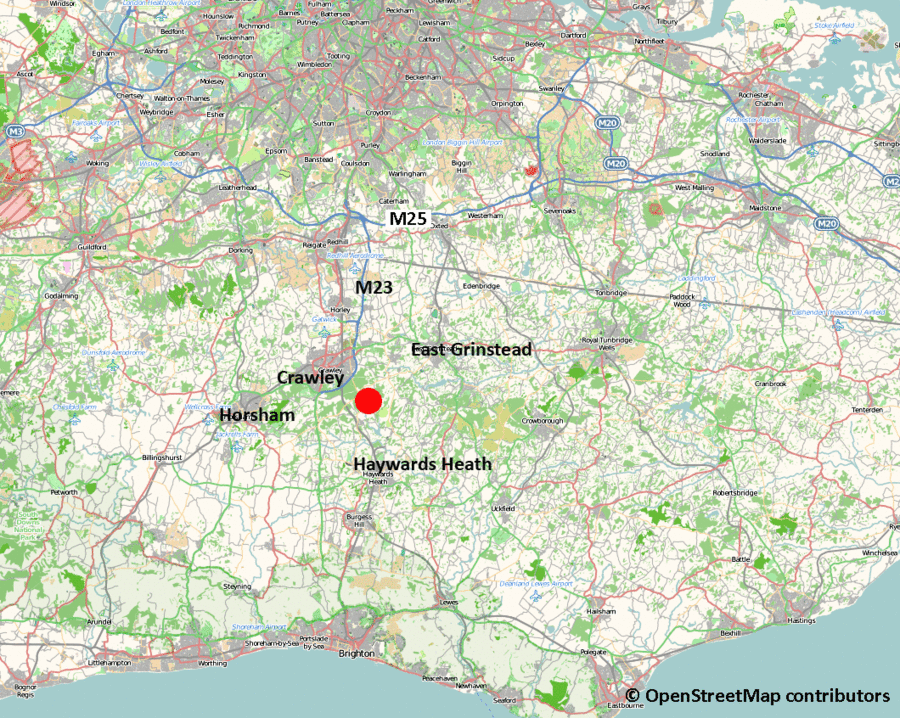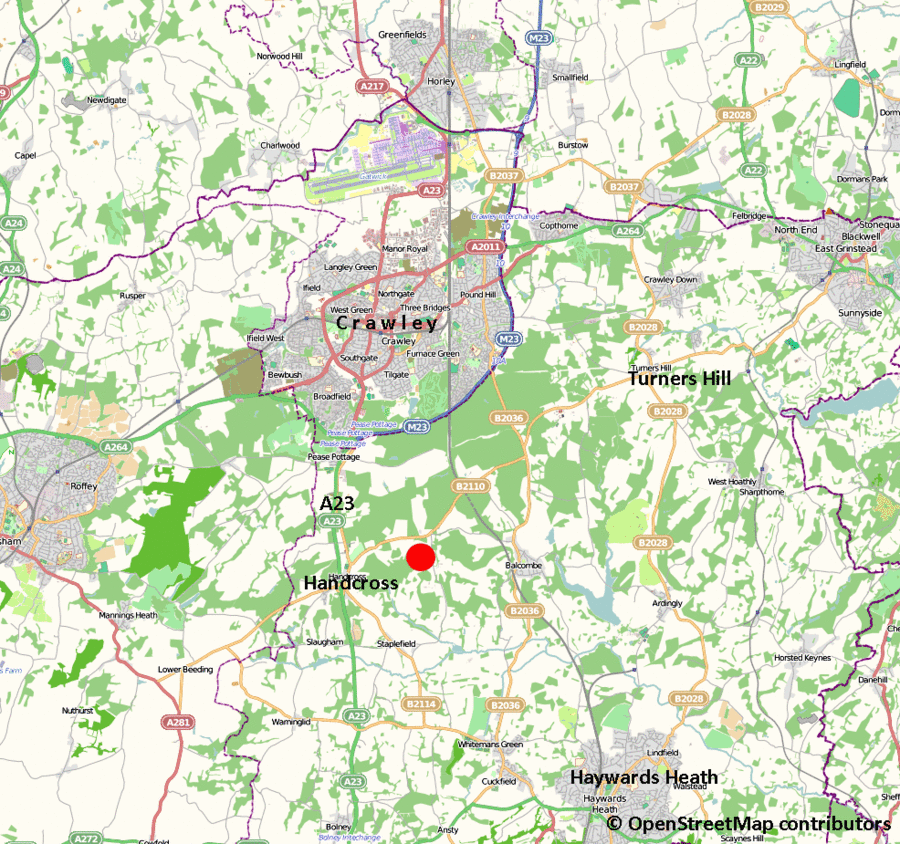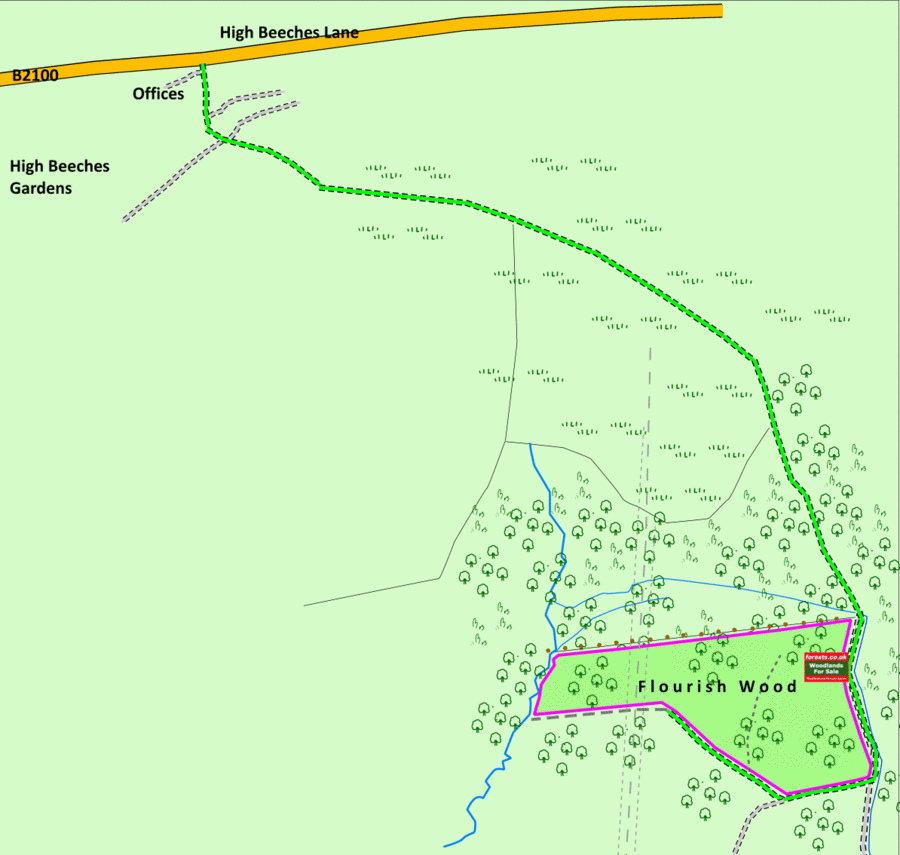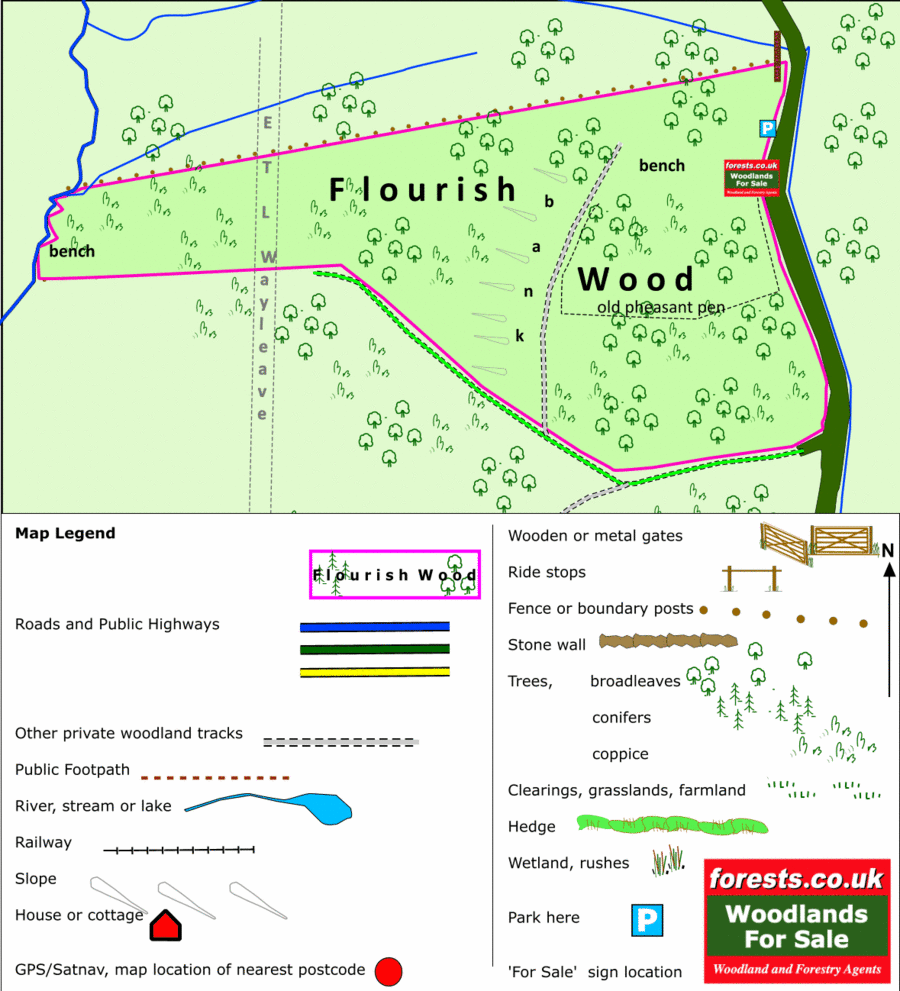 Directions
Flourish Wood is about 5 miles south of Crawley, just off the A23 due east of Handcross. 
Click here for Bing Maps Directions enter your own postcode, entrance coordinates are already entered and click on the blue "Go" box. This will take you to the entrance off High Beeches Lane.
For Satnav: the nearest postcode is RH17 6JX as shown by the red dot on the maps and the coordinates are: 51.063685 and -0.177367 N51:03:49 W0:10:39
Heading south along the M23 go past J11, the road then becomes the A23(T)
take the next slip road signed Handcross B2110 / B2114
at the roundabout take 2nd left, (straight on) signed Handcross
at the next roundabout turn left, signed to Turners Hill and High Beeches B2110 - High Beeches Lane
after about ½ mile look out for the sign to The High Beeches Gardens
then take the 2nd entrance on the right after the gardens entrance into The Flour Mill, now offices for a software company
drive straight in, then bear left onto the old tarmac track
follow this track, pass the 'Private' signs,
after about ⅓ mile there is an open area on the right, park here by the For Sale sign.