Hitch Wood - Under Offer
Details for this wood
Guide price: £135,000 - Freehold
Size: About 5½ acres

Location: Poynings, Brighton
OS Landranger: OS No 198
Grid ref: TQ 26478 13505
Nearest post code: BN45 7AY
Contact: Ben Williamson
Phone: 07958 213 914
Email: [email protected]
Email to a friend
Hitch Wood is a magical ancient woodland set within the South Downs National Park just a stone's throw from the coast.
The woodland itself is a well mixed, mature oak and cedar are common throughout with an understory of hazel and impressive hornbeam coppice. Scots pine, birch, ash, maple and holly can also be found.
As you enter the woodland a wonderful private ride leads north to south through the woods. A large open clearing can be found in a central area making the perfect secluded space for camping and woodland activities. Underfoot, mosses, fern and grasses make navigation easy and woodland paths lead you in and around the level site. The woodland is completely private and there are no public footpaths through or near the wider wood. 
For those with a keen interest in wildlife, muntjac and roe deer are regular visitors, both seen on our recent visit. Tawny owls, woodpeckers, nuthatches, sparrowhawks and buzzards have also been recorded.
Locally, The Ginger Fox pub and Devil's Dyke trail are both within walking distance. 
Ideally situated, Hitch Wood is just a 15 minute drive from Brighton and the coast with easy access to the A23. London is just over an hour away. 
Ward is Hurstpierpoint and Downs and the County Council is West Sussex
Boundaries: Boundaries open on all sides, marked with red paint and follow the surrounding access tracks. 
Access: There is excellent vehicle access all year round via a hard track and shared locked gate. Parking is possible within the woodland itself. 
Covenant: There is a covenant on the wood designed to ensure the quiet and peaceful enjoyment of this and adjoining woodlands, click HERE to read and download.
Click HERE to see free OS maps.
Viewing: You are welcome to visit this wood by yourself, but please Click here to download the details showing the location of the woodland and ensure that you have a copy of these sales details with you. Many of our woodlands do not have mobile phone reception or internet access so we recommend either printing the details or downloading them to your phone or tablet. Please take care when viewing as the great outdoors can contain unexpected hazards and woodlands are no exception.
Maps: OS OpenData © Crown copyright and database rights 2023 & OpenStreetMap
Our Maps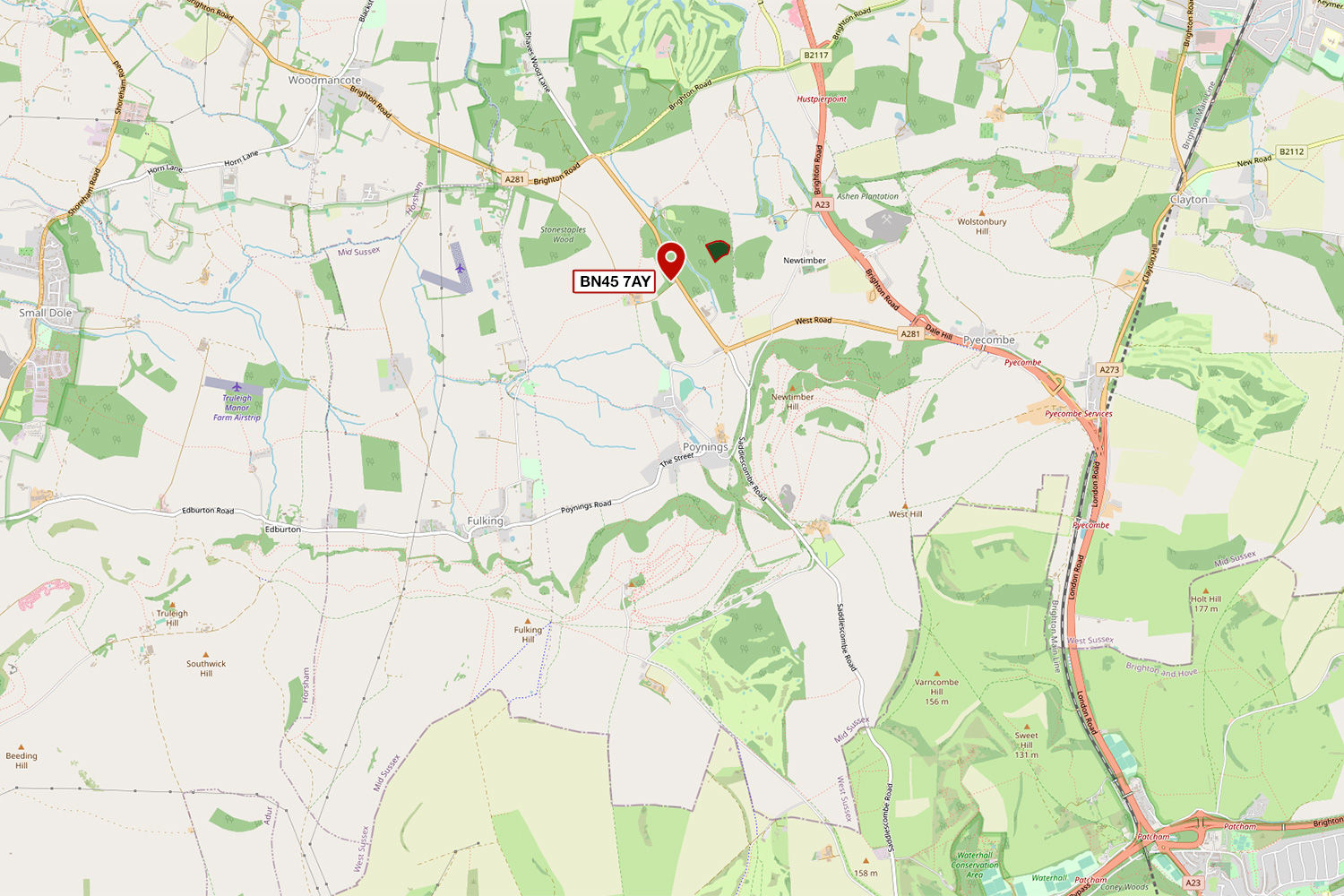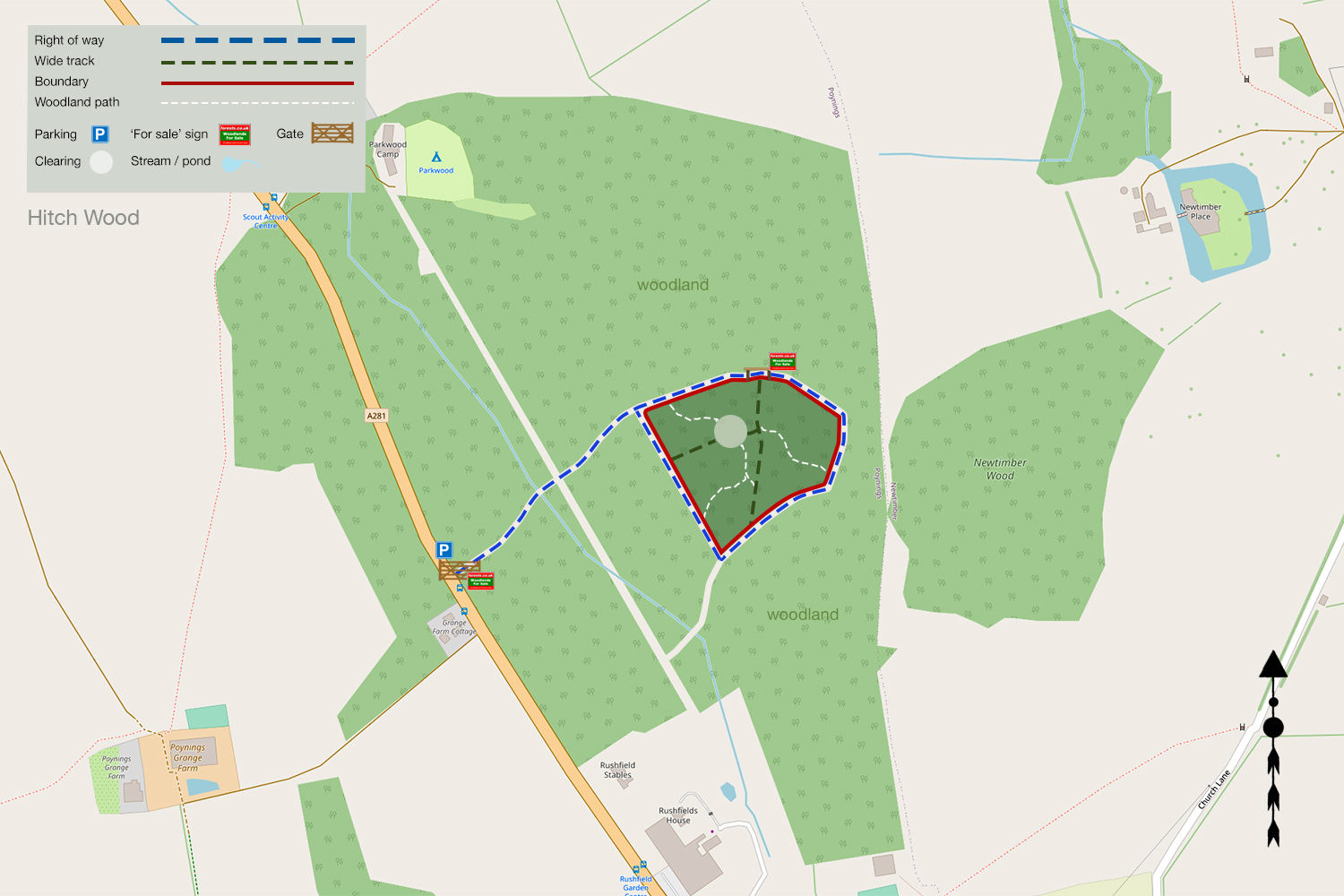 Directions
Hitch Wood, Poynings, Brighton
1. Click here for Bing Maps Directions  click on the "Directions" box and enter your own postcode. 
For viewing purposes, park at the main entrance as marked on the map. Please don't block the gate. 
Pass to the left of the gate and follow the track marked blue on the map. After approx 250m the start of Hitch Wood will be on your right.
Continue straight on for another 100m to reach the ride stop and parking area to the woodland. 
2. For Satnav: the nearest postcode is BN45 7AY as shown by the marker on the maps. The main coordinates for access are: 50.905834, -0.207479. W3W ///chipper.pass.workbook
Interested in this woodland? Get in touch with us:
Contact Ben Williamson on 07958 213 914 or email us at [email protected] with your details.