Hogmanay Wood - Sold
Details for this wood
Guide price: £79,000 - Freehold
Size: About 7¼ acres

Location: Freshfield Bridges, near Haywards Heath, West Sussex
OS Landranger: 198
Grid ref: TQ 394 240
Nearest post code: RH17 7NP
Contact: Richard Scholfield
Phone: 07811 818 277
Email: [email protected]
Contact: Ben Williamson
Phone: 07958 213 914
Email: [email protected]
Email to a friend
Description   This is a very quiet and secluded wood that gently slopes up towards the south, and is a mixture of chestnut, birch, hazel, holly, and oak of varying ages. A broad track leads from the road through the gate and after about 800 metres reaches Hogmanay Wood, continuing all the way along its north east boundary. There is a level area for an owner to park inside the wood, off the main track.
There are signs of where the deer have been taking shelter in this secluded wood, with its copious ground cover as well as 'holly tree grazing', seen by the foliage of the holly, being neatly trimmed some four feet from ground level. Up above in the canopy, there is a wide variety of small birds. The dawn chorus is well worth an early morning visit.
On the higher, level ground, on the south side of Hogmanay Wood, birch and chestnut coppice overlook a more open area, where there are views to the north across the Ouse valley and beyond. Occasionally you will hear, but not see, the slow beat of one of the old steam engines, on the Bluebell Railway. 
The whole area is designated as Ancient Woodland and Hogmanay Wood lies well within Wapsbourne Wood, close to the border between West Sussex and East Sussex. An archaeological survey has found evidence of a charcoal burning platform within Hogmanay Wood.
Boundaries   at the top and bottom the boundary is 3 metres from the centre of the tracks, on either side there is a line of free-standing posts.
Access   the is a full right of way from the public highway, Sloop Lane, as far as the northeast corner of the wood. For viewing we suggest parking in Sloop Inn's carpark. After viewing the wood it would be really worth-while calling in for a drink or a meal.
Covenant    There is a covenant attached to the wood click here to read designed to ensure that all can have quiet and peaceful enjoyment of their woodland.
Our Maps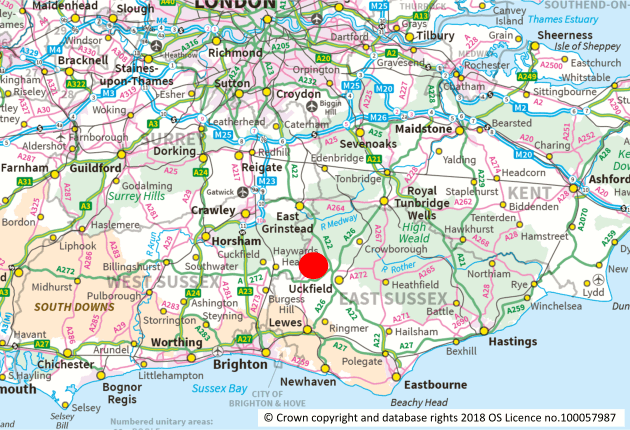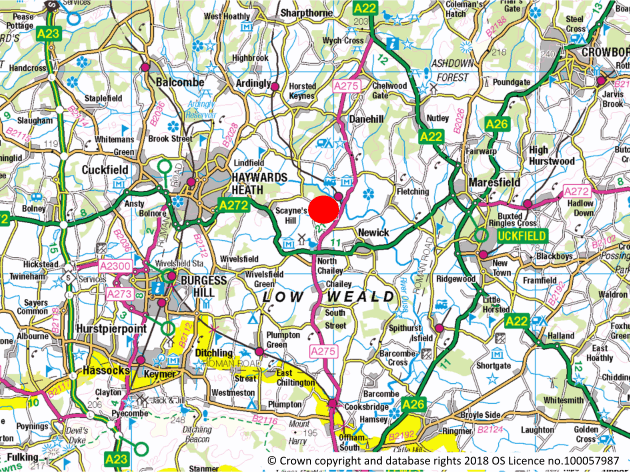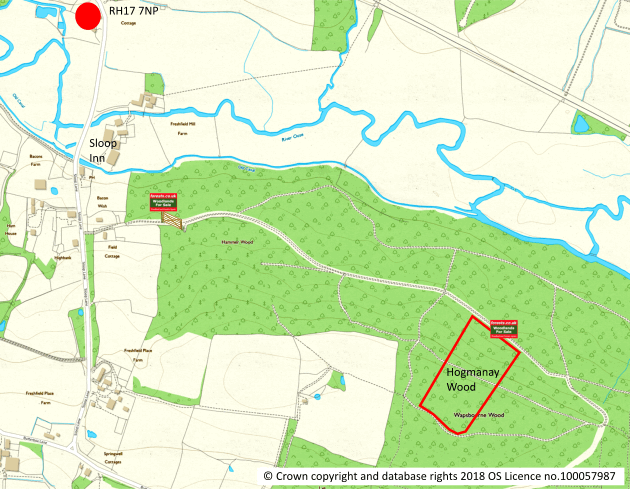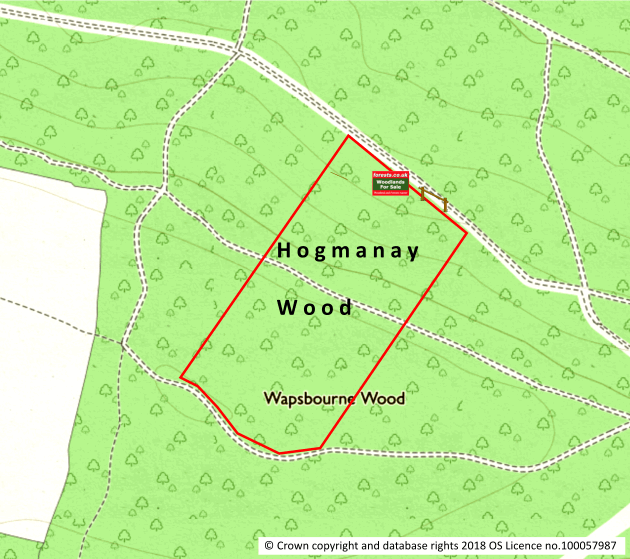 Directions
Hogmanay Wood is about 4 miles east of Haywards Heath in West Sussex.
Click here for Bing Maps Directions  enter your own postcode, entrance coordinates are already entered, and click on the "Directions" box.  This will take you the Sloop Inn's carpark where you may park.
Park here and walk up the lane for about 120 metres from The Sloop Inn and turn left into a private drive (this is also a public footpath) between the houses Bacon Wish and Field Cottage. (Please do not drive into or park on this driveway)
After walking about 100 metres up the drive you will reach a locked wooden gate with a 'Woodlands for Sale' sign on it.
Walk around this gate and keep going straight ahead on a track for about 800 metres and Hogmanay Wood will be on your right with blue markings identified by the "Forests For Sale" sign, as in the photo.
Satnav: the postcode RH17 7NP is for the point shown by the red dot on the location maps. Coordinates for satnav are: N51.002153, W0.027770