Jays Wood - Sold
Details for this wood
Guide price: £190,000 - Freehold
Size: About 24 acres

Location: Boughton under Blean, Canterbury, Kent.
OS Landranger: 179 and OS Explorer E149
Grid ref: TR 070 589
Nearest post code: ME13 9NY
Contact: Richard Scholfield
Phone: 07811 818 277
Email: [email protected]
Email to a friend
Description:
A substantial woodland on a gentle westerly sloping site much of which is  natural and self generated after harvesting in the 1970's. Ordnance survey maps show some of the area as open ground, they are rather outdated! The matrix of hawthorn and other shrubs with small trees including cherry, willow, beech and birch, are overshadowed by the larger oak and ash.  The more open areas allow the woodland to be enjoyed easily and are especially valuable for the abundant birdlife. Clumps of aspen occupy the damper areas.
Alongside Boughton Hill there is a wide band of mature broadleaved older woodland where oak and ash are predominant with beech, silver birch and hazel under. A small seasonal stream meanders along the shallow valley bottom that runs in an east west direction.
Clearing of undergrowth has allowed the proliferation of woodland wildflowers, as can be seen from the photos. Some were taken 2 years ago and some regrowth has occurred.
There is excellent access directly off Boughton Hill, the old A2. A shipping container provides security for tools and woody materials.
There is a public footpath as shown on the map crossing the woodland and a South East Water Co watermain runs along the southern boundary. Sporting rights are in hand and are included in the sale. There is a TPO protecting the woodland but this does not stop normal woodland management.
Boundaries: 
These are to the north (by the entrance) the road known as Boughton Hill, to the south the A2, to the west a woodbank topped by an old fence. The eastern boundary is fenced and approximately 100 yds from the avenue of trees, as shown on the map.
Our Maps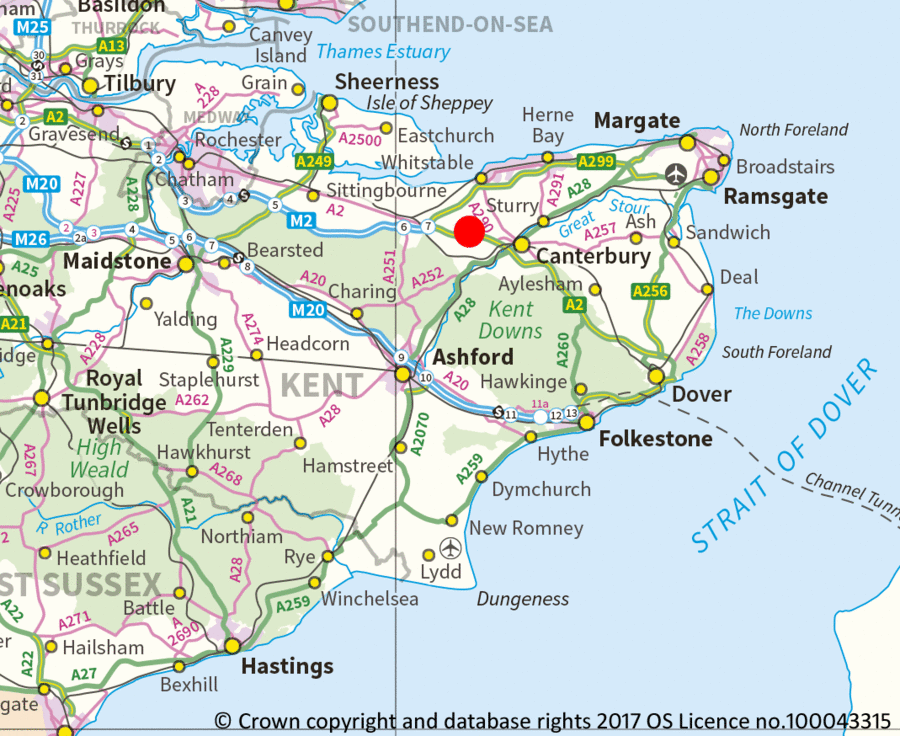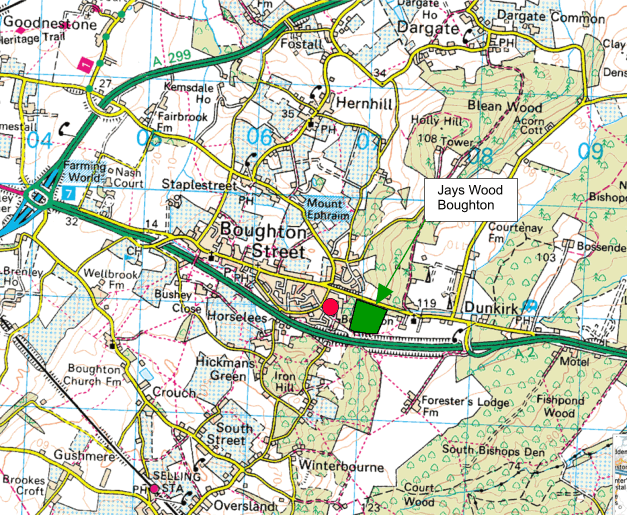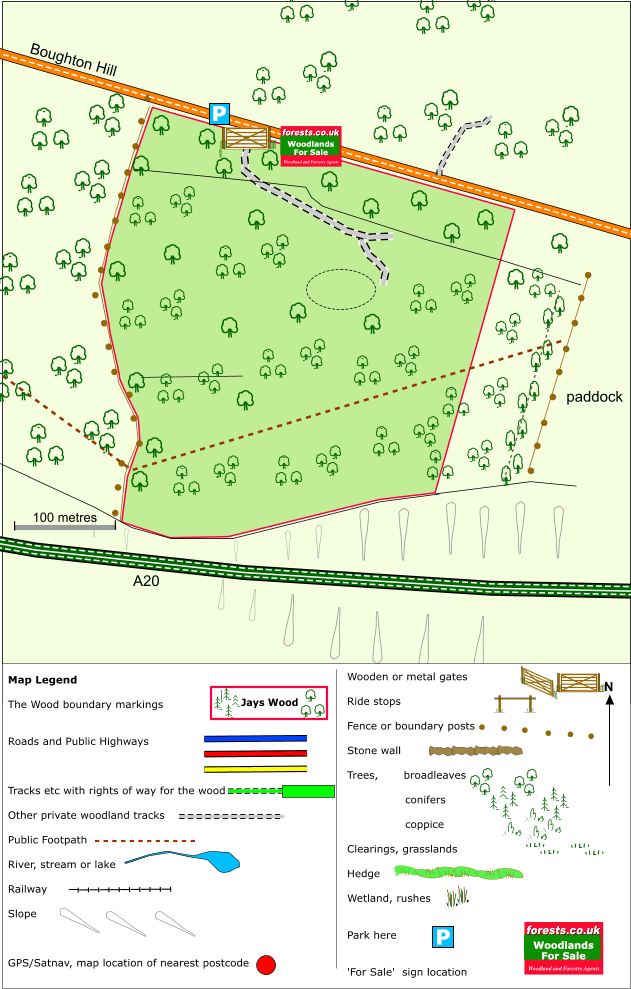 Directions
Jays Wood is about 10 min west of Canterbury and about 10 min est of Faversham.
From the M2 take the A2 signed to Canterbury and almost immediately filter left to Boughton and Dunkirk.
Follow the road through the village of Boughton.
On the edge of the village proceed up Boughton Hill until seeing the "Woodland For Sale" sign on the right hand side.
Park by the gate.
Click here for Bing Maps Directions enter your own postcode, entrance coordinates are already entered, and click on the "Directions" box.
Satnav: the postcode ME13 9NY is for the point shown by the red dot on the location maps. Coordinates for satnav are:  N51.293110, E0.968064