Kettle Wood, near Sissinghurst, Kent - Sold
Details for this wood
Guide price: £90,000 - Freehold
Size: About 8½ acres

Location: Camden Hill, Canbrook Common, near Sissinghurst, Kent
OS Landranger: 188
Grid ref: TQ 788 389
Nearest post code: TN17 2AJ
Contact: Richard Scholfield
Phone: 07811 818 277
Email: [email protected]
Email to a friend
Kettle Wood is a lovely blend of stately Scots pine with leafy chestnut coppice and some oaks scattered though the wood. Situated on a gentle slope, it is easily accessed from the road, yet behind a securely locked gate it is very private. In spring there are lots of bluebells under the chestnut coppice. Kettle Wood is part of the very much larger Brewers Wood. It is designated as ancient semi-natural woodland, and lies in the High Weald AONB (Area of Outstanding Natural Beauty). An owner will be likely to experience the wide range of the bird varieties to be found throughout Brewers Wood, including goldcrest, chiff chaff, great tit, coal tit, wren, song thrush, great spotted woodpecker, sparrowhawk and buzzard.
Included with the wood are a UN approved Thermo Tent and Gazibo with the timber lean-to storage unit
There is a covenant click here to read designed to ensure that all can have quiet and peaceful enjoyment of their woodland.
Our Maps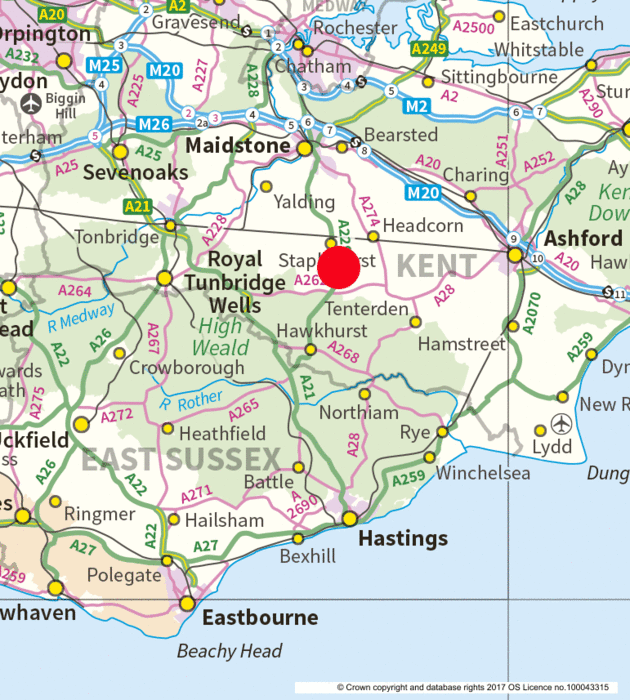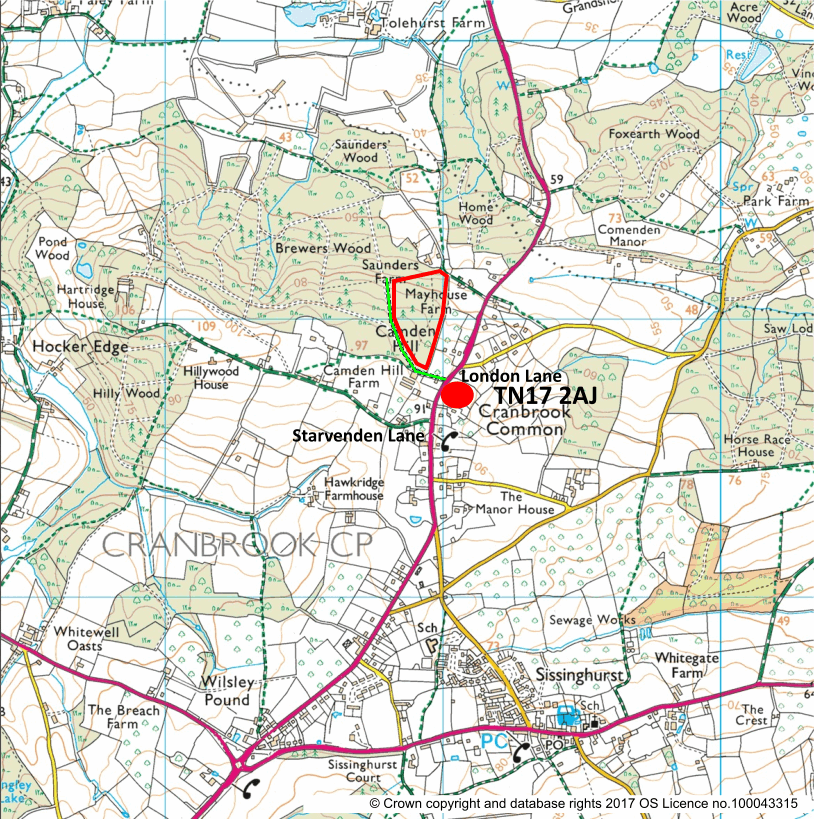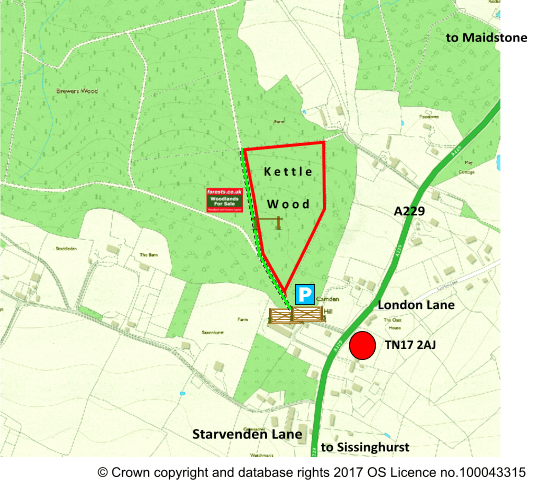 Directions
Click here for Bing Maps Directions enter your own postcode, parking location coordinates are already entered, and click on the "Directions" box. 
Satnav: the postcode TN17 2AJ is for the point shown by the red dot on the location maps, just south of London Lane. Coordinates for satnav are:  N51.120502, E0.555460
From the south
At the roundabout junction of the A262, and the A 229, take theA229 going north towards Staplehurst.
After about 1 mile you will pass a 'Murco' garage on the left.
Then shortly after that, pass Starvenden Lane on the left.
About 150 metres after that there is a turning left into a tarmac/concrete lane, marked as leading to "Micklewood" and "Polmood", which leads to Camden Hill Farm.
Go up this lane and park by the metal double gates at the top. (Please do not block the entrance to the farm or houses and leave one gate clear)
Go over the fence by the double gates and walk about 60 metres and Kettle Wood will be on the right.