Larch Wood - Sold
Details for this wood
Guide price: £99,950 - Freehold
Size: About 9 acres

Location: Staplecross, East Sussex
OS Landranger: 199
Grid ref: TQ 774 225
Nearest post code: TN32 5SH
Contact: Richard Scholfield
Phone: 07811 818 277
Email: [email protected]
Contact: Ben Williamson
Phone: 07958 213 914
Email: [email protected]
Email to a friend
Description   The wood is set in the High Weald Area of Outstanding Natural Beauty, one of the most beautiful landscapes in Sussex and is designated as (PAWS) a plantation on ancient woodland site. A refuge in the centre of a huge forest in East Sussex.
The main broadleaves are oak, cherry, ash, silver birch and sweet chestnut. There are some good clearings in the centre of the wood with views across the valley. There is certainly scope here for creating more clearings and internal track widening, both of which will further encourage the wildflowers present such as orchids, bluebells and foxgloves as well as butterflies and other invertebrates.
Over the last 10 years the present owner has carried out a dramatic regeneration scheme improving the woodland greatly for wildlife, harvesting much of the larch and spruce to encourage the broadleaved trees, planting much oak, beech, hawthorn and yew. About 3 acres of conifer still remain.
From the zero-impact forest store and woodsman's shelter there is a good view across the tree-covered valley,  this clearing is ideal for family woodland activities and a good site for a campfire. With this shelter woodland work can continue in all weathers.
This part of the forest is known as Wellhead, as the name suggests springs issue from the hillside and provide water for the conservation ponds.
The woodland is carpeted by bluebells in season, giving way to multicoloured foxgloves later in the summer.  Other flowers include orchids, primroses, wild rose & honeysuckle.
Deer, grass snakes,shrews, buzzards, sparrow-hawks, woodpecker and many songbirds frequent the woods.  Wild boar have also been filmed rootling around. There are a series of small ponds with many newts, frogs, and toads & dragonflies.
A tree-house with access via an air bridge has been constructed for the owners children - please do not access when viewing.  NB - a safety check is always advised.
Sporting Rights  are included
Boundaries  are the trackside on three sides, to the west a line down through the adjoining woodland.
Access  is along a shared track with full rights of way. Contributions to maintenance is according to the use made.
Please note viewing is by arrangement only, please phone Richard Scholfield 07811 818277  to make an appointment
Please note, the vendor will not take any offers less than the guide price.
Our Maps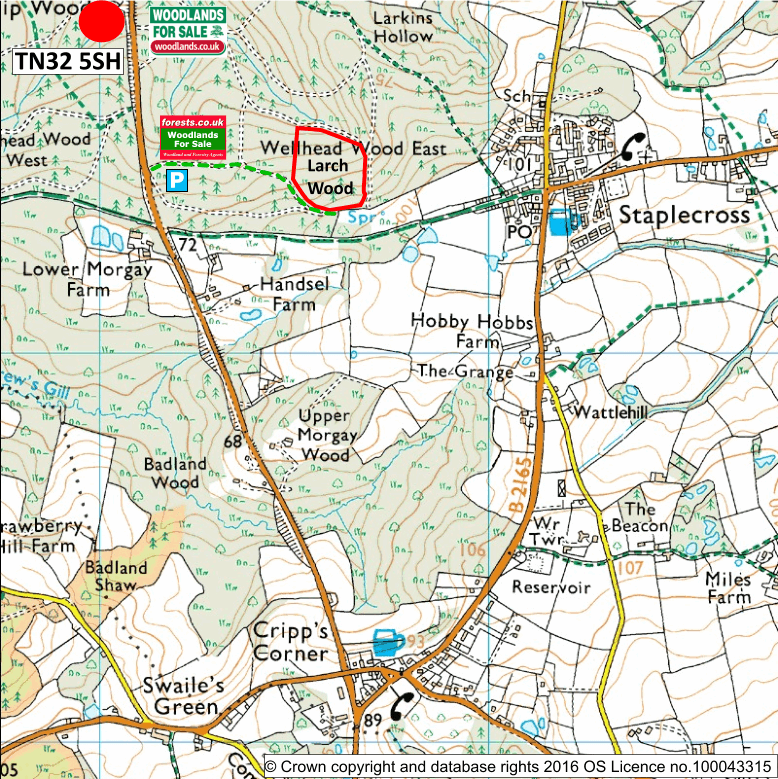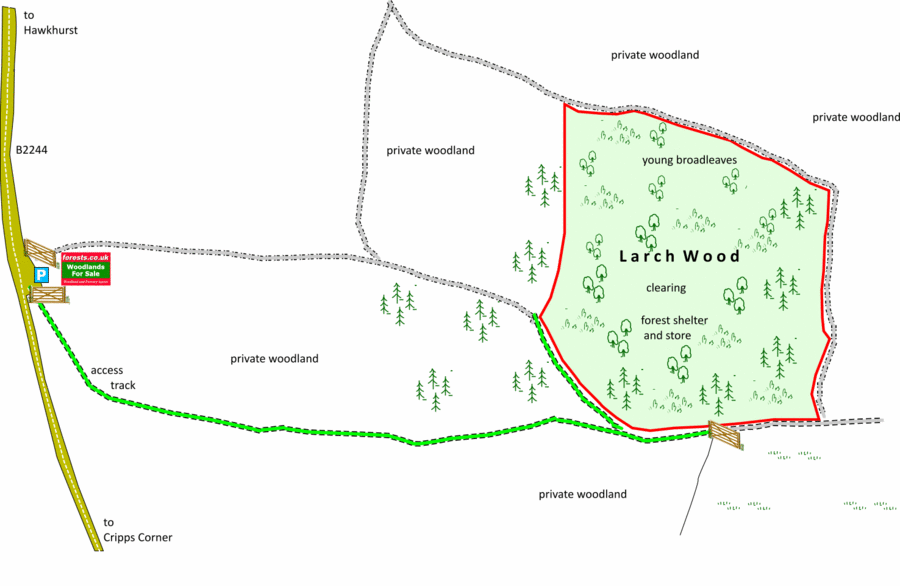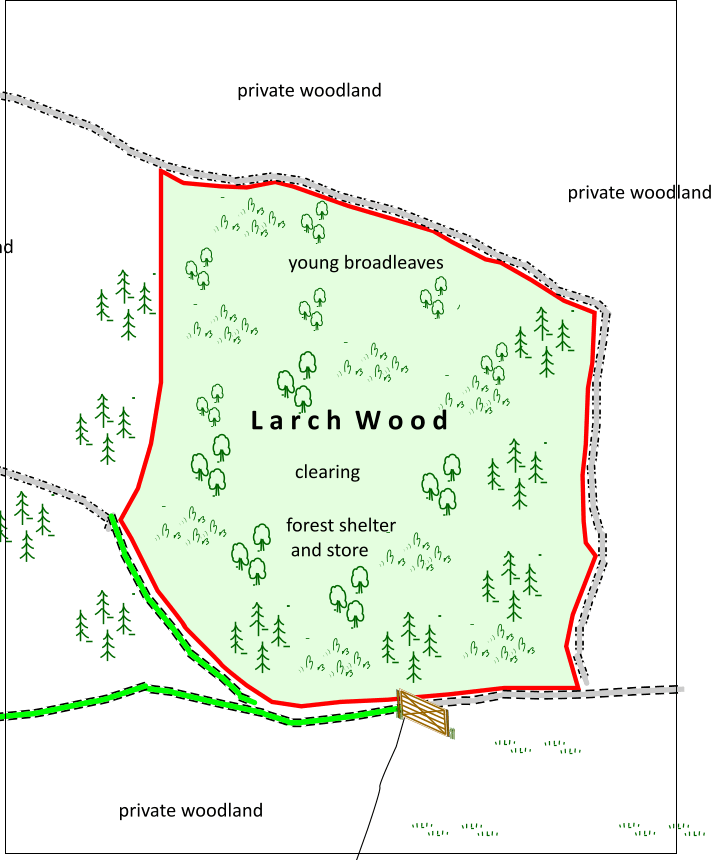 Directions
Larch Wood beside Staplecross in the heart of the well-wooded East Sussex. It's less than 30 mins north of Hastings and just over 30 mins south of Tunbridge Wells.
Click here for Bing Maps Directions enter your own postcode, entrance coordinates for parkingare already entered and click on the blue "Go" box. This will take you to the parking place on Monkery Lane.
For Satnav   the nearest postcode is TN32 5SH as shown by the red dot on the map and the coordinates are: N 50.974351 and E 0.521709
For full-scale printable map CLICK HERE