Little Acorn Wood - Sold
Details for this wood
Guide price: £82,500 - Freehold
Size: Over 5½ acres

Location: Clanfield
OS Landranger: 185
Grid ref: SU 691 181
Nearest post code: GU32 1QS
Contact: Ben Williamson
Phone: 07958 213 914
Email: [email protected]
Email to a friend
Description   
Little Acorn Wood is a rare opportunity to buy woodland in this outstandingly beautiful Hampshire countryside.
The woodland has a spectacular display of bluebells at the end of April and is carpeted with wild flowers right the way through the summer.  Primrose, violet, wood anemone, dogs mercury and bluebells all confirm this wood as a valuable wildlife habitat. The most incredible sunsets can be seen as the sun sets on the lower long stretch of the wood.
Little Acorn Wood is secluded and level, with its own grassy internal track. 
Classified as an Ancient Replanted Woodland, after harvesting of the previous trees, it was replanted twenty years ago, and these are growing vigorously. They are mainly oaks, with clusters of cherry, ash, beech, willow and chestnut. These trees would be improved from some pruning to better their 'form'.  This includes removing some of the side branches to increase the value of the oaks where unbranched straight 'butts' should attract a premium at harvest. A not-too-strenuous enjoyable activity for a woodland owner that can also produce a supply of firewood. There is a grove of older beech trees. 
Designation    Little Acorn Wood is set in the South Downs National Park, click HERE for a link. 
Covenant   There is a covenant, click here to read, on the woodland designed to ensure the quiet and peaceful enjoyment of this and the adjoining woodlands.
Access    An access track leads from the metal gate at the roadside to the wood, the rights being for all vehicles at all times for the woodland owner. 
Note    The firewood stored in the woodland is not included in the sale and will be removed. The 'log houses' will be left.
Boundaries    To the west there is an line of old posts, the other boundaries are the tracksides.
Sporting rights   Are included.
Our Maps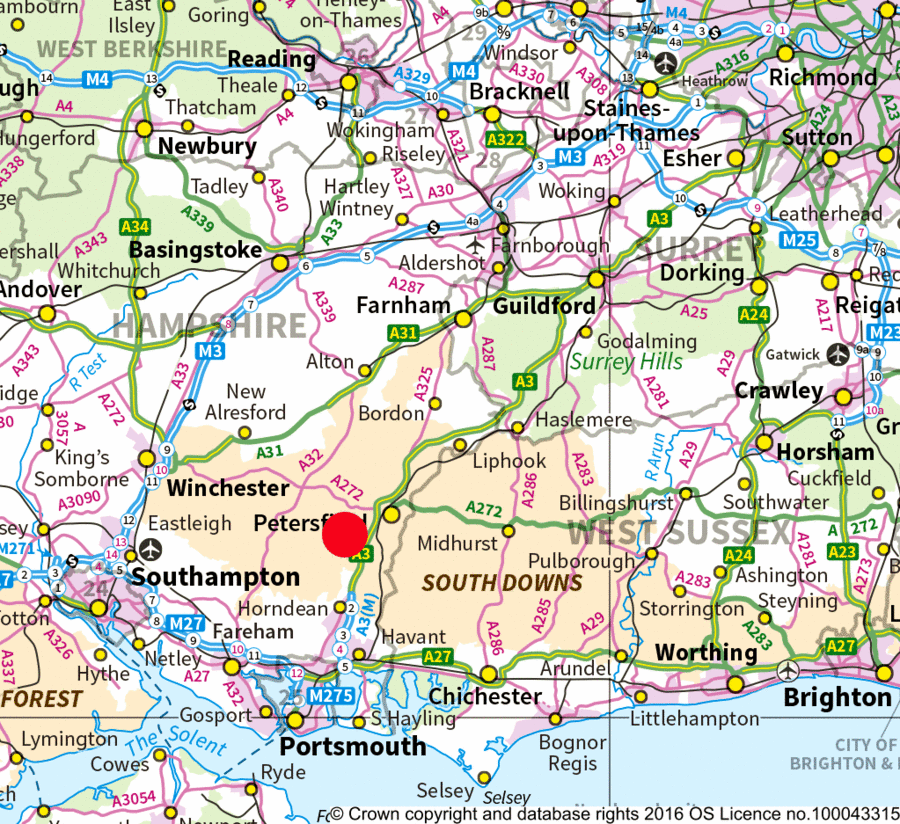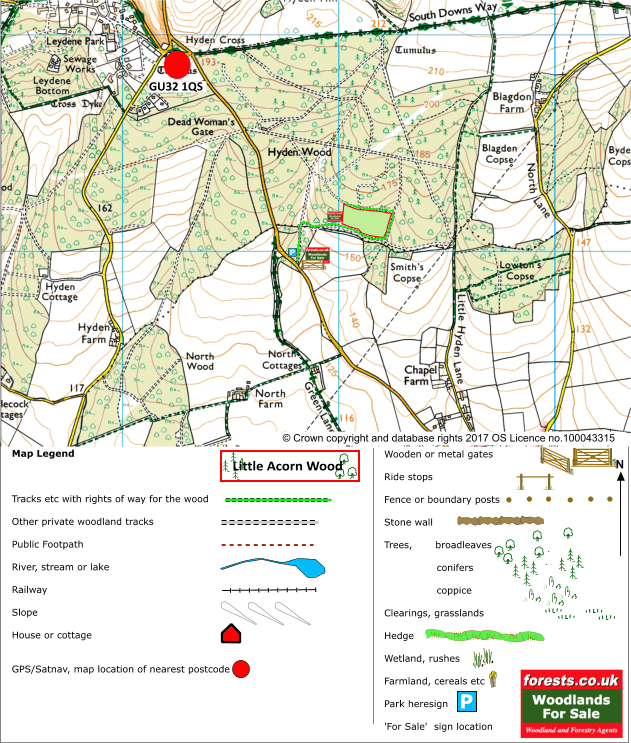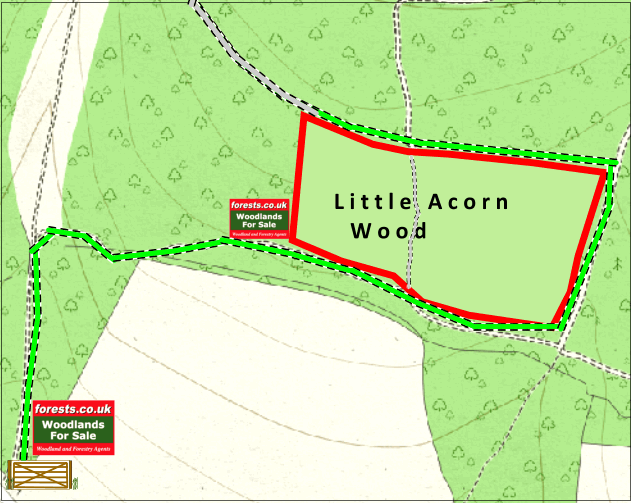 Directions
Little Acorn Wood is about 2 miles north of Clanfield and about 12 miles north of Havant and Portsmouth.
Click here for Bing Maps Directions enter your own postcode, parking location coordinates are already entered, and click on the "Directions" box.  Look for the 'For Sale' sign, park by the metal gate and walk into the woodland following the track north then turning right. Little Acorn is ahead and on the left. 
Satnav: the postcode GU32 1QS is for the point shown by the red dot on the location maps. Coordinates for satnav are:  N50.956987, W1.021673