Mistle Wood - Sold
Details for this wood
Guide price: £39,000 - Freehold
Size: About 3 acres

Location: Dundale Road, near Frant, Tunbridge Wells, Kent
OS Landranger: 189
Grid ref: TQ 618 379
Nearest post code: TN3 9AG
Contact: Richard Scholfield
Phone: 07811 818 277
Email: [email protected]
Email to a friend
Description     Land to the south east of Tunbridge Wells has few roads and is quiet, peaceful countryside of hilly farmland and extensive woodland, yet is within a few minutes drive of the Town.  Much of the wood is traditional sweet chestnut coppice, now well-grown containing many large tall straight stems useful for many purposes. We made the bench and the ridestop, from chestnut. The wood peels easily when fresh, the surface below the bark has a fascinating pattern of striations. In a good year the trees produce a hefty crop of edible chestnuts.  Some of these could be 'singled' and allowed to grow on to become standard trees.  With these are the oaks, trees associated with so many other organisms making them a biodiversity hotspot. There is a small amount of rhododendron imparting privacy to the woodland. The ground is level, easily walked and in spring has an extensive display of bluebells.
There is a whole wood management plan in place as agreed with the Forestry Commisison (FC) which covers about 40 acres around and including Mistle Wood, this can be transferred as part and modified to a new owner. There is a TPO (tree preservation order) on the wood which does not affect normal woodland management where a current FC agreed management plan is in place.
Boundaries   these are indicated by orange markings and are: west side a line of free-standing posts;  south and east are at the foot of the neighbour's fence on a woodbank;  and the north is alongside the track, min 3 metres from the track centre.
Access   is off Dundale Road along the woodland track where there is a full right of way in perpetuity.
Brochure    click here to download and print out a pdf brochure with full-scale maps. You can also download this onto an ipad when vewing the woodland.
Covenant    the purchasers of the woodland will be asked to enter into a covenant to ensure the quiet and peaceful enjoyment of this and the adjoining woodlands.
Info and advice  please see our associate website www.woodlands.co.uk where there is a vast amount of useful information and guidance on owning and managing your woodland. Please note these woods are NOT suitable for residential development.
Maps are : © Crown copyright and database rights 2018 OS Licence no.100057987
Our Maps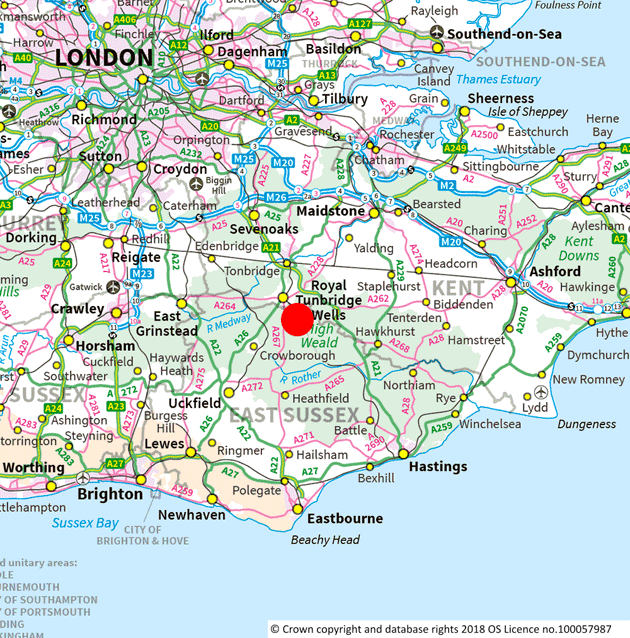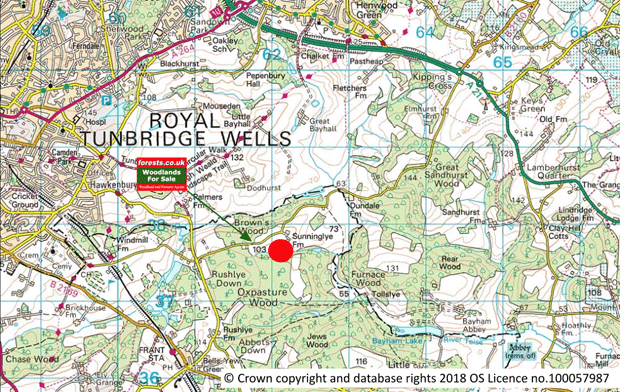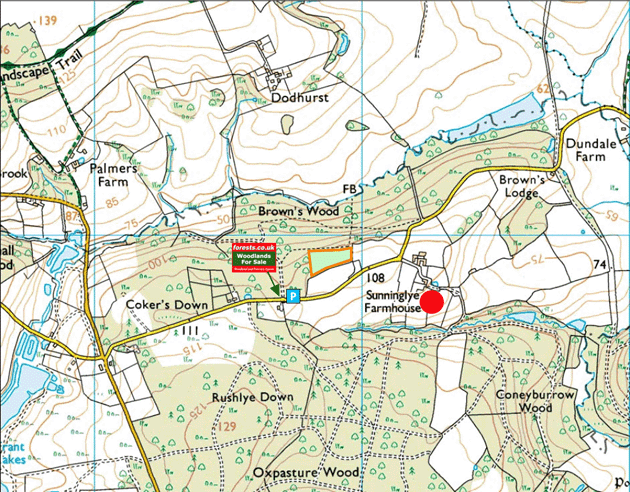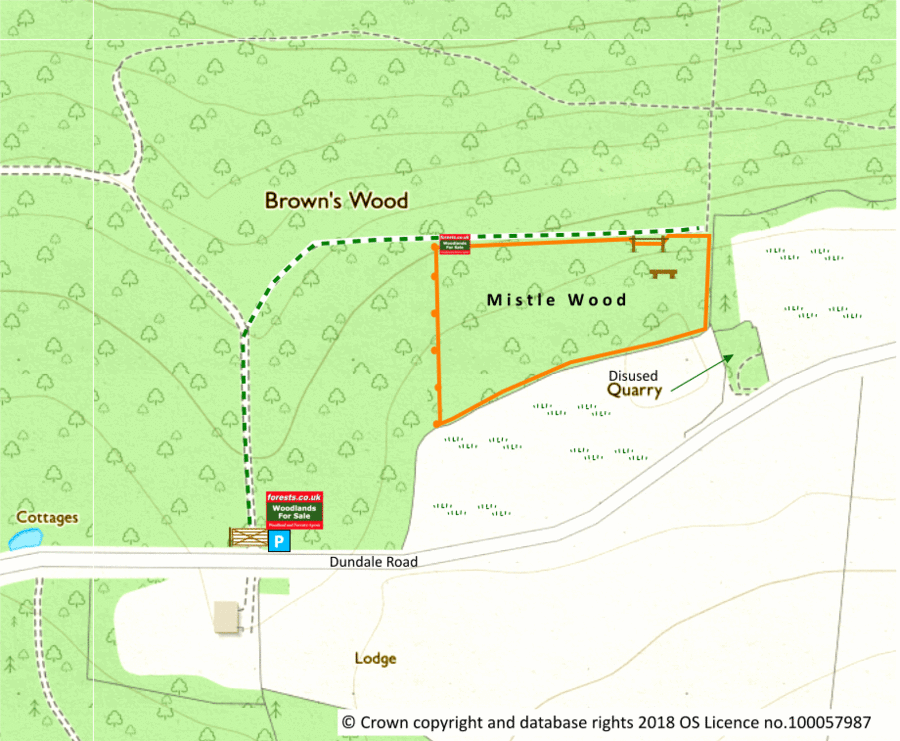 Directions
Mistle Wood is within 10 minutes drive from much of Tunbridge Wells.
Click here for Bing Maps Directions enter your own postcode, entrance coordinates are already entered, and click on the "Directions" box. This will take you to the metal gate where you can pull in and park. Squeeze past the gate, walk along the track keeping right, as the track levels out at the top of the wood Mistle Wood will be seen on the right with sale and wood name signs.
Satnav: the postcode TN3 9AG  is for the point shown by the red dot on the location maps. Coordinates for satnav are:  N51.116531, E0.308958
We hereby give notice under section 21 of the Estate Agents Act 1979 of interest in the land being sold.