Tangier Wood - Sold
Details for this wood
Guide price: £79,000 - Freehold
Size: About 10 acres

Location: Frant, Kent
OS Landranger: 188
Grid ref: TQ 588 363
Nearest post code: TN3 9HG
Contact: Richard Scholfield
Phone: 07811 818 277
Email: [email protected]
Contact: Ben Williamson
Phone: 07958 213 914
Email: [email protected]
Email to a friend
Description   So close to Tunbridge Wells yet when in the wood you are in deep countryside. A hard all-weather track gives access to the front of the woodland with parking on the verge. Inside, the wood is private with a diverse range of trees and vegetation, in parts heather is seen, the white bark of silver birch shines out, conifers in their rows are green overhead.  A small seasonal stream runs down through the wood in a shallow ghyll, the drier heather areas provide potential open areas for timber working and camping.
Viewing    Park in Tate Fencing carpark. Available only during working hours, 8.30 am - 5.00 pm Monday - Friday, 8.00 am - 3.00 pm Saturday, closed Sunday, with parking as shown on the maps. Outside of these hours viewing is by special arrangement. Please do leave the wood before 5.00 pm  (3.00 pm Sat) to ensure you are not locked in!
Access    This is off the A267 Frant Road along a hard track shared at the roadside with Tate Fencing.  There is a right of way for all purposes and at all times along the track to Tangier Wood, with maintenance according to the use made.  The track is hard and suitable to year-round use. The purchaser will have a key to both gates so access is at any time.
Sporting Rights    These are included with the land.
Covenant  There is a covenant, click here to read, on the woodland designed to ensure the quiet and peaceful enjoyment of this and adjoining woodland.
Boundaries   Four square posts mark the four corners of the wood, along the trackside they are set back, the actual boundary being the trackside.
Our Maps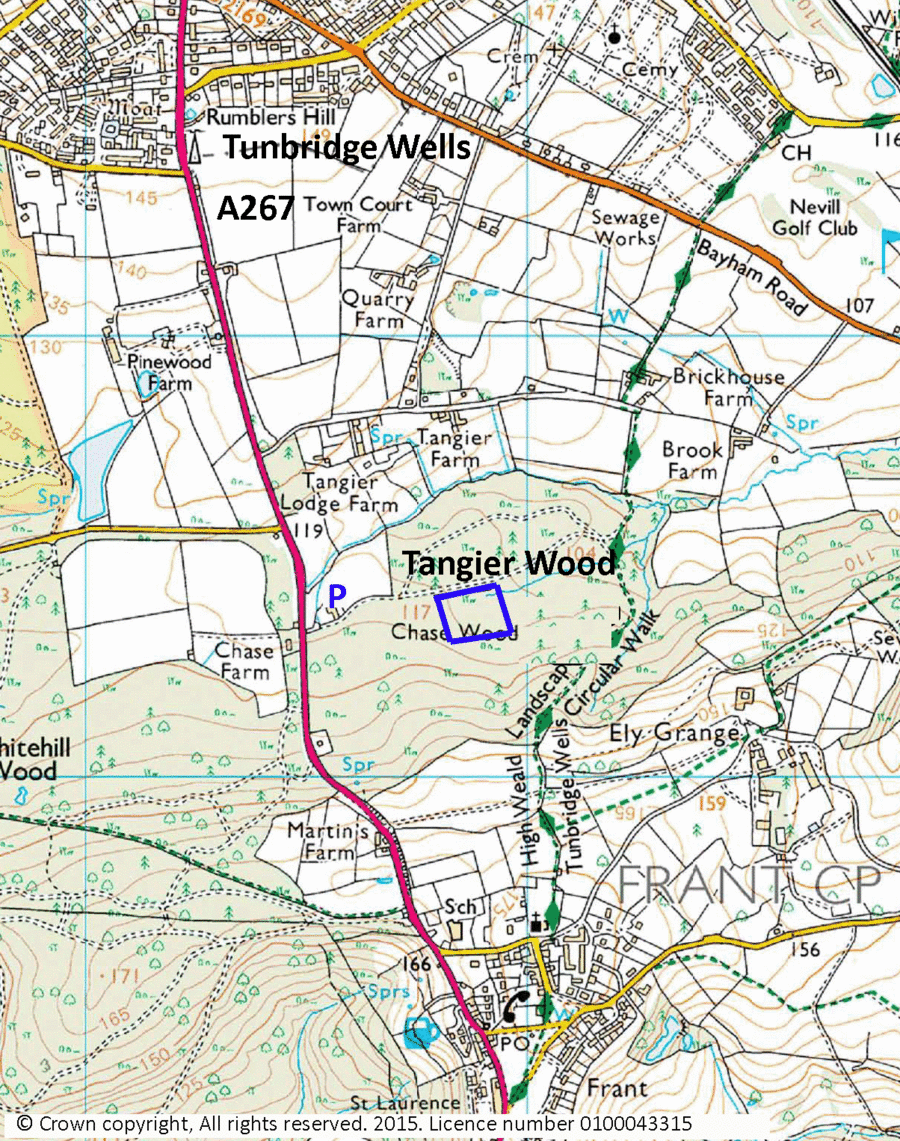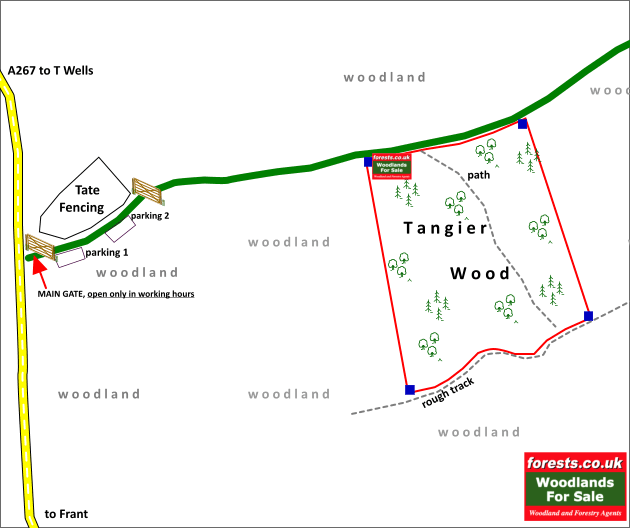 Directions
Tangier Wood is about 2 miles south of Tunbridge Wells off the A267 Frant Road.
Click here for Bing Maps Directions enter your own postcode, (the coordinates for the main entrance road are already entered) and click on the blue "Go" box.  This will take you to the wood's entrance which also serves Tate Fencing so is easy to locate.
For Satnav: the nearest postcode is TN3 9HG as shown by the red dot on the maps. 
From Tunbridge Wells head south along the A267 Frant Road
pass the right turn signed Lewis
then take left turn in to Tate Fencing after about 300 metres
immediatley on entry park on the right in one of the two carparks
walk down the track past Tate Fencing yard the the wood is on the right hand side 
a square post marks the start and another the far boundary.
From Frant the entry is about ½ mile north of Frant and on the right hand side.
,