Uprising Coppice - East Sussex
Details for this wood
Guide price: £45,000 - Freehold
Size: About 2½ acres

Location: Rye, Kent
OS Landranger: OS No 189
Grid ref: TQ 85547 19280
Nearest post code: TN31 6BG
Contact: Ben Williamson
Phone: 07958 213 914
Email: [email protected]
Email to a friend
Uprising Coppice is an ancient broadleaf woodland with lots of variety and character set within the High Weald AONB.
As the name would suggest a majority of the woodland is well stocked coppice of mainly hazel, birch and sweet chestnut. Throughout the wood, a wide range of species are present. Towering red cedar, Scots pine and wild cherry can be found to the north. Mature hornbeam and field maple line an impressive woodbank bordering the field and wonderful views to the northeast. Ash, beech, hawthorne, black alder, holly, honeysuckle and elder can also be found. 
A power line runs from east to west in the northern part of the woodland allowing in lots of light giving a variety of shrubs, flora and fauna space to populate. 
There are some good flat open areas throughout the wood making it ideal for camping and woodland activities.
The woodland sits just a five minute drive from the historic coastal town of Rye. The expansive beach at Pett Level is also within easy reach and Hastings is just 15 minutes away.  
Ward is Brede & Udimore and the County Council is East Sussex
Boundaries: To the south the boundary is open and follows the main road. East, the boundary is fenced and borders open fields. North and west the boundary borders neighbouring woodland and the main access track. 
Access: There is excellent vehicle access all year round via a shared locked gate. Parking is also possible inside the woodland itself.
Covenant: There is a covenant on the wood designed to ensure the quiet and peaceful enjoyment of this and adjoining woodlands, click HERE to read and download.
Click HERE to see free OS maps.
Viewing: You are welcome to visit this wood by yourself, but please Click here to download the details showing the location of the woodland and ensure that you have a copy of these sales details with you. Many of our woodlands do not have mobile phone reception or internet access so we recommend either printing the details or downloading them to your phone or tablet. Please take care when viewing as the great outdoors can contain unexpected hazards and woodlands are no exception.
Maps: OS OpenData © Crown copyright and database rights 2023 & OpenStreetMap
Our Maps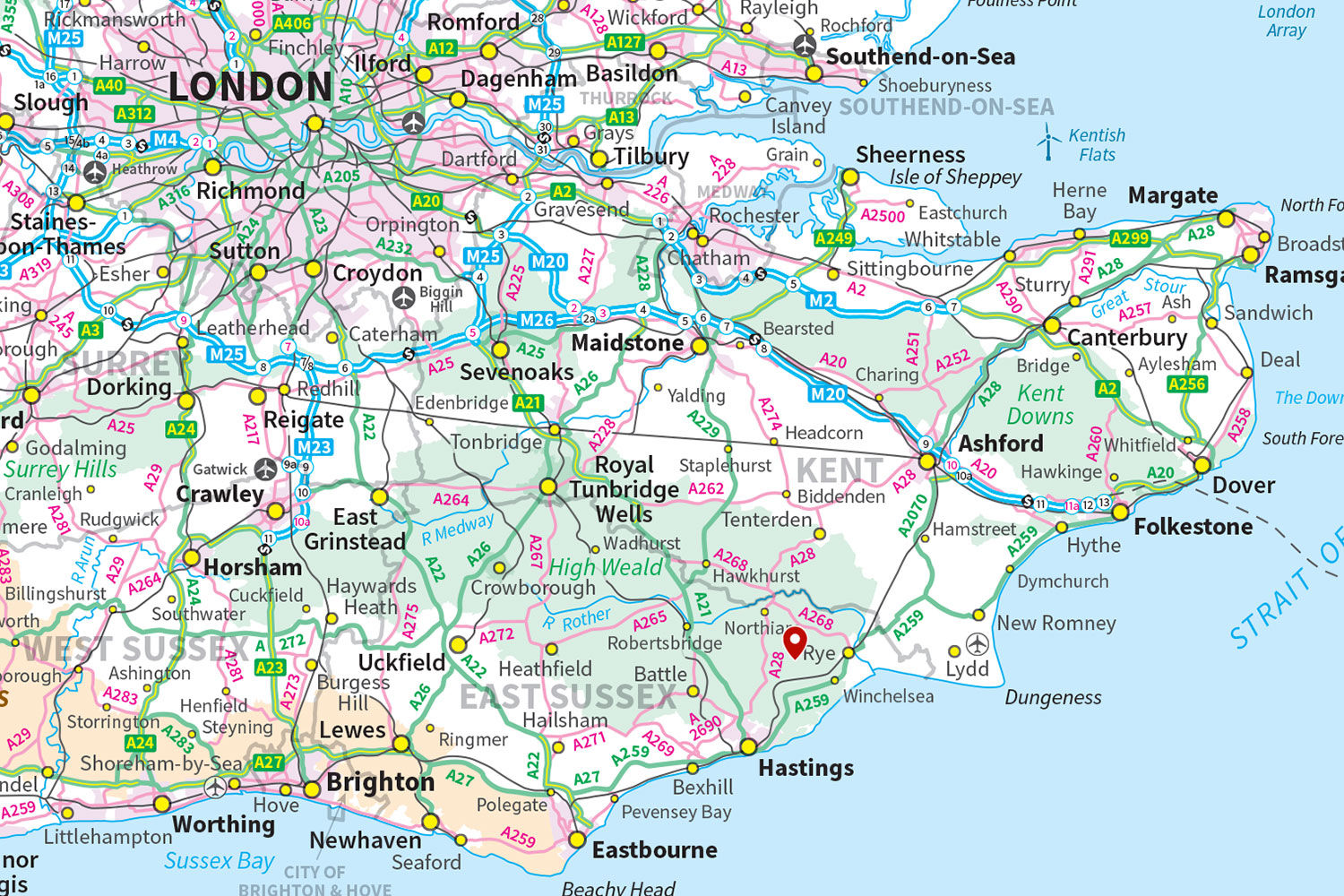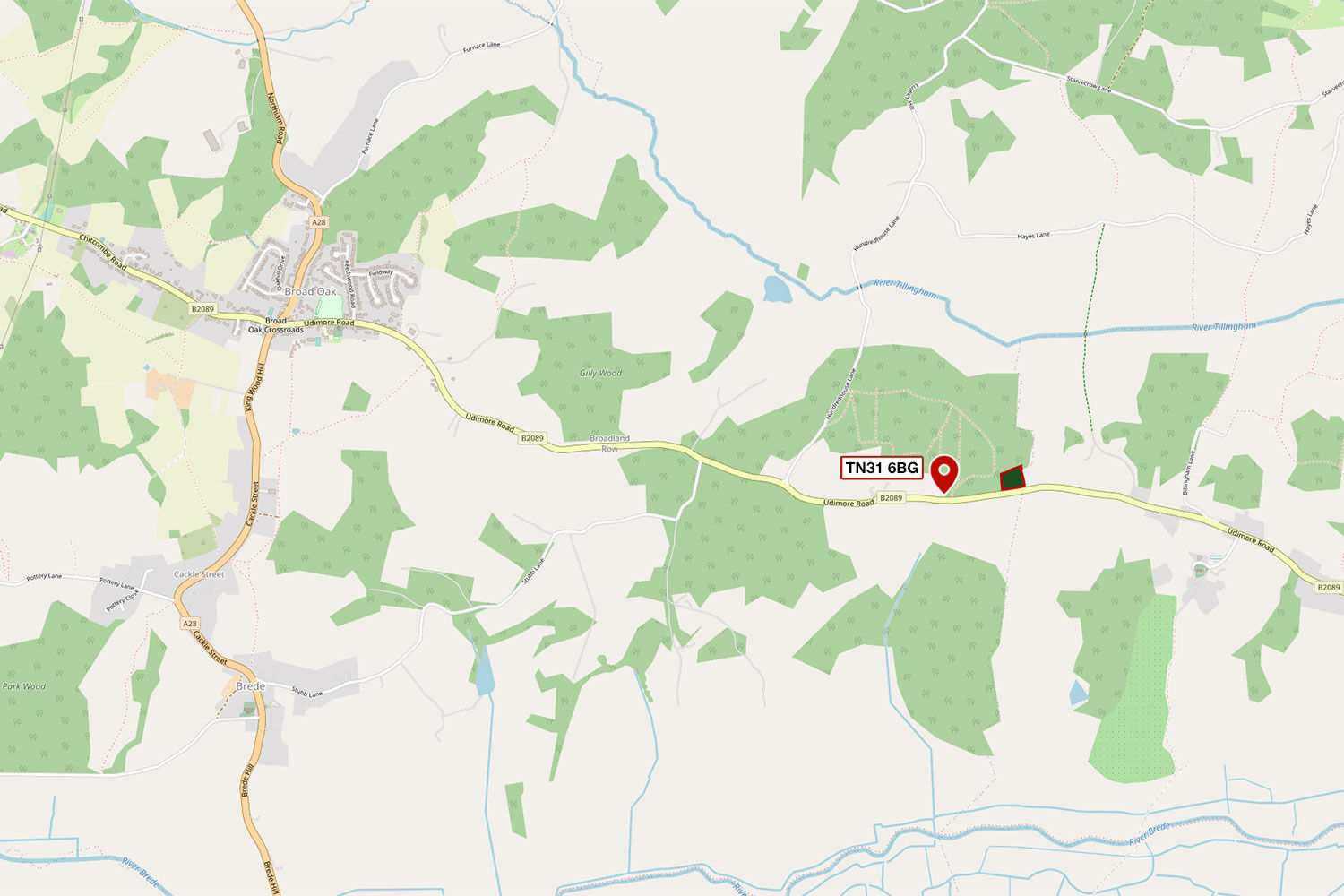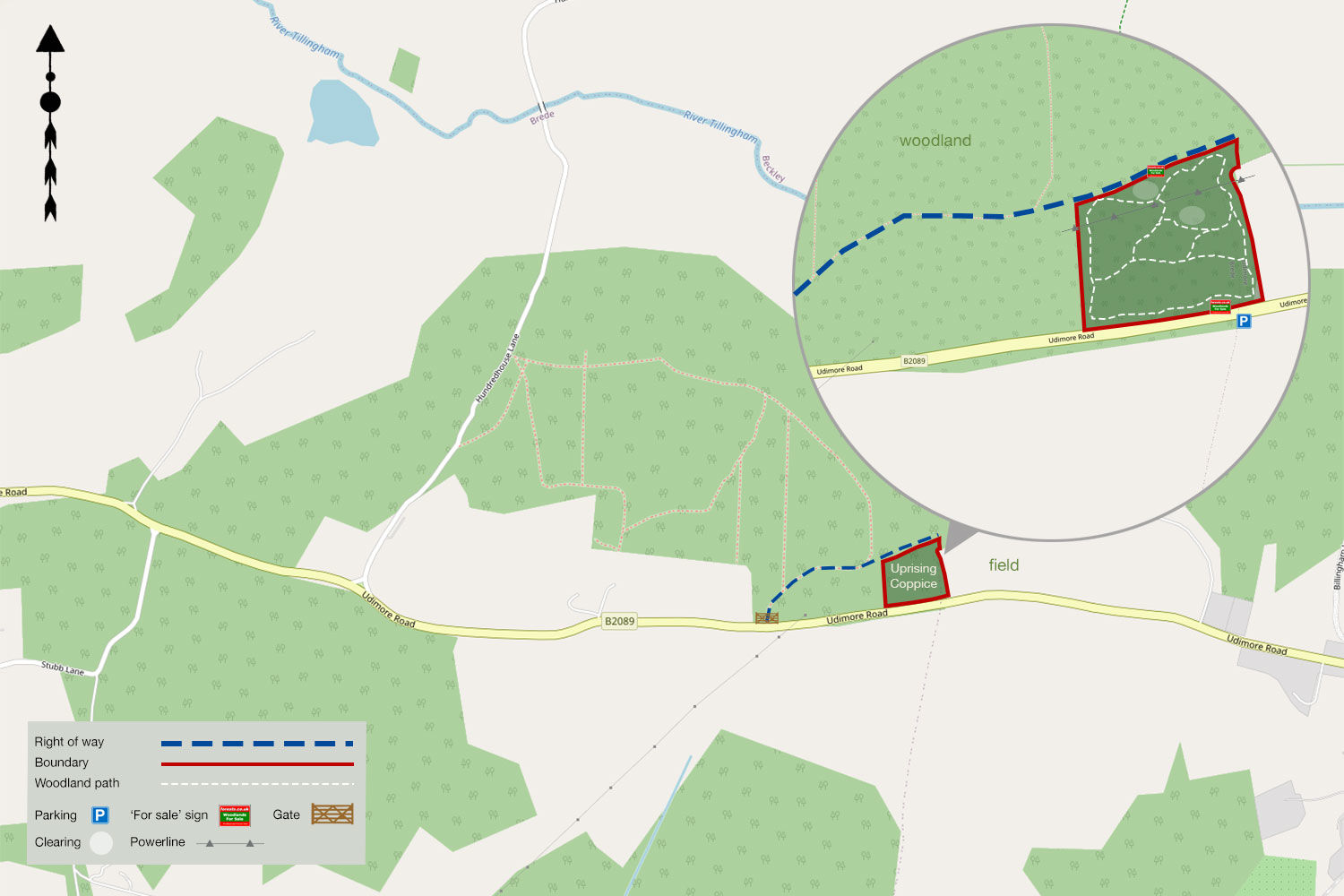 Directions
Uprising Coppice, Udimore Road, Rye
1. Click here for Bing Maps Directions  click on the "Directions" box and enter your own postcode. 
For viewing purposes, park in the layby on Udimore Road, as marked on the map.
Uprising Coppice will be on the opposite side to you.
Cross the road and pass through the open boundary into the woodland. 
2. For Satnav: the nearest postcode is TN31 6BG as shown by the marker on the maps. The main coordinates for access are: 50.942753, 0.640681. W3W ///physical.gearing.narrating
Interested in this woodland? Get in touch with us:
Contact Ben Williamson on 07958 213 914 or email us at [email protected] with your details.